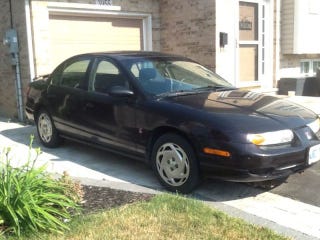 Saturn SL2, 5 speed manual!
300k kms, 200k kms on the engine (the guys son didn't ran the car dry of oil and had to replace the engine at 100k kms). Needs a muffler, but the clutch is in good condition, suspension is perfect and the engine runs fine. The AC, power doors and windows even work! Might need some front tires for safety but we'll see.
Can't wait to learn to drive stick and teach my wife. So excited!