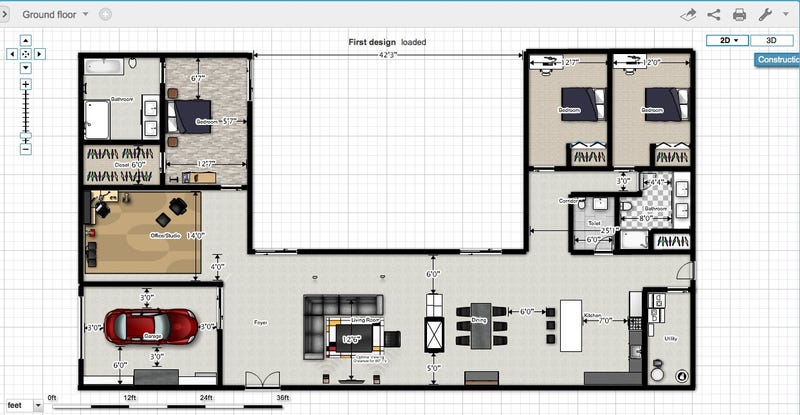 I was hit with a sudden burst of creativity today, so I looked up some tools to make this. Some specifics:
Approximately 3300 square feet. A bit bigger than I was shooting for (I think 1000/adult and 500/child is optimal)
Objects DO NOT represent decor, they were just whatever the software had and I cared more about size than color
The interior and tops of the U shape will be all glass and steel
The interior walls of the garage will also be glass, for admiring my sweet ride from almost anywhere within the house
That door just above the kitchen will lead to a semi-enclosed breezeway connecting the house to the garage for the more plebeian cars (or underground tunnel if I can swing it)
That big box with an X through it is a two sided fireplace, the boxes above that are bookshelves.
Radiant floor heated
Roof mounted solar panels
Tall trees, an outdoor kitchen, and a lounging area in the semi-enclosed outdoor space, with some other landscaping as well.
For the exterior I was imagining something like this:
and for the interior I'm not quite sure yet. Something like one of these:
Probably different colors than those though, and I haven't even started on furniture. I'm also on the fence about ceiling height. On the one hand, I like the exaggerated horizontality the low ceilings lend the exterior appearance, and with all the glass it shouldn't feel cramped. On the other hand, I love the openness of high ceilings. What are your thoughts oppo?