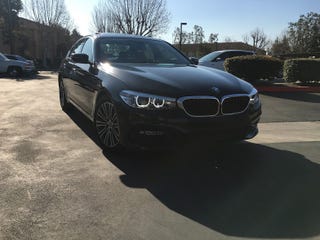 It was good. Better than I thought it would be considering how the previous gen was, but at the same time it wasn't as great as I thought it would be either.

The 7th gen G30 5 Series debuted the beginning of last year. It rides on a shortened version of a platform shared with the 7 Series. The model I had seen here is a 530i with MSport design elements. It was handsome and luxurious at the same time. There were hits, but there were misses as well.

Hits:
Exterior design: Say what you want about the Germans cookie cutter designs, but this gen 5 Series does well to differentiate it self and make it look less like a larger 3 Series or a smaller 7 Series than others before it. Distinctive led DRL's, tasteful (but non functional) side vents and handsome lines all work well on this car. I got a lot of looks, and a lot of assholes wanting to race for some reason.
Engine: Let me say this: this car does not feel like a 4 cylinder in sound and power delivery. The 530i is powered by BMW's 2.0 TwinPower turbo 4 putting out 248 horses and 258 lb/ft of torque. 0-60 is about 6 seconds. This thing feels like its at least putting out 270 horses and 0-60 felt way faster than 6 seconds. It's one of those cars that effortlessly reaches speeds and power delivery is smooth and there when you need it with no turbo lag. Another plus side? It's pretty damn efficient too, even when you're heavy footed. I easily turned nearly 27 mpg and 22 with being a boy racer. BMW claims 24 city 34 highway and I believe them.
Interior design and features: Handsome and modern is how I like to think of it. For this being a "base" model, it came with a lot of nice features.Multi adjustable heated seats with adjustments for everything from side bolsters to the headrests, gesture controls, ambient interior lighting with like 10 different colors, moonroof, sat and hd radio, it was pretty loaded. Should be though. Optioned out this car is pretty much 60 grand.
Easily selectable drive modes: There are 3 different drive modes for the 5 Series that also changes the gauges as well: Comfort, which is the standard setting is a balance of the other 2, being both efficient but sporty enough to have power when you need it; EcoPro which measures how efficiently you drive. Gauges turn blue and throttle response is lessened, and when stopped, the car counts how long the start/stop system has the engine off. It will also show you how many mpg's you have gained if you drive efficient enough and measures your anticipation response on the throttle; and finally Sport mode. Gauges turn BMW orange with the speedo gaining a digital speedo in the center. Throttle response is increased along with what seemed to be stiffer suspension and better steering response. You can easily reach 100 in this mode (I got up to 108 just on an onramp without realizing it).
Misses
Letherette seats: Look and feel nice, but unacceptable in a 60 thousand dollar car. Cheap ass BMW charges you another $1450 if you want actual leather seats.

Start/Stop system: I HATE start/stop systems and this one reminded me of why I do. I couldn't tell if it helped efficiency or not, like most systems. But the main problem with it is that it was not smooth at all. It was rough to start, rough enough in fact that if you didn't know the car had a start stop system, you would swear something was wrong with the car as it shudders to life from a stoplight. On top of that, it engaged and disengaged the engine at random times when it shouldn't have, like pulling into a parking space crooked. You go to straighten up, brake, engine shuts off. Not even a few seconds later you put the car into gear to reverse or something and the engine turns on. 3 times in the span of a few minutes in low speed maneuvers. What's even more maddening is I couldn't figure out how to disable the system or even figure out if I could. The button pictured above didn't seem to do anything.
Rear Legroom: Sharing a platform with the 7, you'd think the backseat would be more spacious than it were. I mean it's not tight, but its not as big as you'd expect either. Getting your leg in the back is weird too. My grandmother had a time getting her foot in the car on a quick ride to Shake Shack.

Gesture Controls: You know, at first I thought this was just another gimmick that would get annoying, and I was right. Well kind of. Gesture controls allows you to operate SELECT (as in a few) controls touch free. Radio control, phone calls, navigation entries, all can be controlled by not even looking at the dash but just doing the correct gesture. Want to change a radio station? Take 2 fingers like you're doing the peace sign but aim them at the dash, station changes. Want to lower or raise the volume? Make circle motions with a finger in front of the dash and the volume changes. Want to select that destination you just input with voice control? Just make a motion like you are pushing a button in the air towards the dash and its selected. It's cool to show off with.
But it has annoyances. The volume control either turns the volume too low or too high (it's honestly just easier to use the wheel mounted volume buttons), changing the radio station only allows for changing to the next station, not the previous one. And if you're the kind of person that likes to talk with their hands, keep your hands away from the dash as you will accidentally turn the radio up or down, change a station or disconnect a call with random gestures. Its cool to use sometimes, but you will get tired of it fast.
The damn joystick like confusing gear shifter: I'm surprised owners haven't had problems with BMW's shifters like people did with FCA's rotary shifters. I was confused. When I initially got the car, I damn near drove into a curb from being parked after not realizing that reverse is the forward position on the shifter. The position indicator at first glance can be confusing, along with the fact that the shifter stays in the same place no matter what gear you are in.
And finally, the driving experience left a lot to be desired. I think this is where the sharing of the 7 Series platform shines through and not in a good way. It's not as soft as the previous F10 5 Series, which was horrible and disconnected, but its still not ultimate driving machine attack twisties either, even in sport mode. Turn in was ok, but the car still feels a little floaty and may understeer if pushed hard enough. Sadly I didn't get a chance to see if it would or not. The 5 Series still leaves a lot to be desired and at 60 large for base model, even with the features my car had, competitors both cheaper and for the same price have caught up one way or the other. Be it performance, features or driving experience.