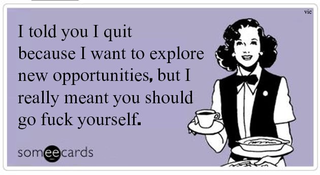 As you may have known if you read the comments in the union thread, I was having serious issues with my private school administration, and they just kept getting worse. Not normal aggravations, but literal vermin in the walls, as the walls crumble, significant unpaid overtime in violation of the law, planting cameras, admins encouraging my homeroom students to discuss my pedagogy/methodology (they're 13, they don't know if my teaching represents any grade level appropriate content), and finally blatant making up of grades so everyone gets As.

Despite my attempt to convince my local to declare and go into collective bargaining, as our parent union case officers wanted, most are too afraid of retaliation, especially since most of my colleagues are major or sole breadwinners for multi-child families. I'm not. So knowing that my only recourse was to sue, I decided to cut my losses to focus on Jalopnik and journalism as my full time job. It's not, but it is a safe cushion with which to branch out into Mustachian value-laden permanent semi-retirement (many of you know I'm a big fan of Mr. Money Mustache). Debt is eliminated, savings and investments are significant, other sources of income acquired.
I will use this time to work on my requirements for my Japanese teaching license, improve my Japanese ability overall, learn new skills, and figure out how I'm going to buy my land and build my tiny house. All while bringing you more of the Jalopnik East you know and love.
Fuck this shit, I'm out.