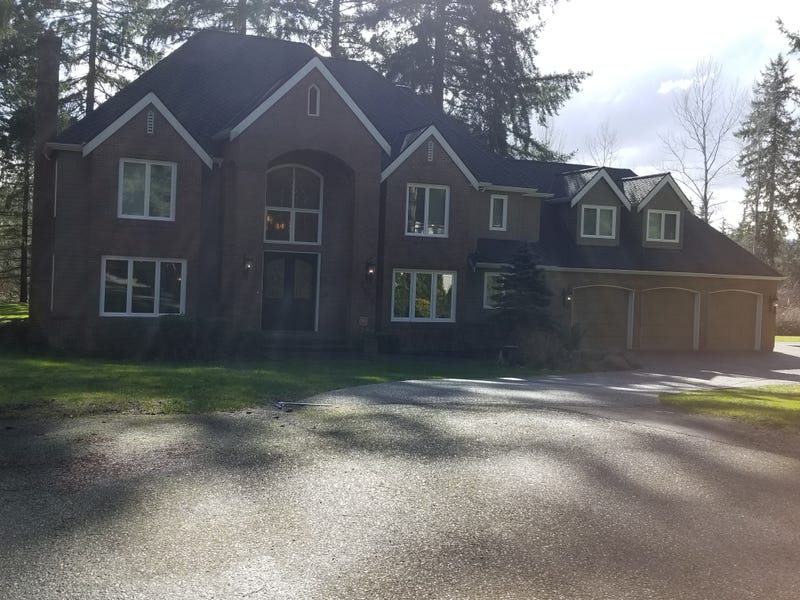 The "Morman military money," edition.

This is one of my favorite clients, partially because she is incredibly kind, treating my team and I like family, and partially because she's super generous with tips, food, drinks, and trampoline time.
Yeah, you read that right. The first time I did this job, I noticed the trampoline set into the ground. I commented on it after finishing the windows because I'd never seen that before, and she responded with "why don't you go and test it out? I'll come get you when the cookies are done hun!" Ten minutes of jumping later (you didn't think I was going to decline, did you?), she brought out a tray with fresh chocolate chip and gooey cinnamon cookies, bottles of Gatorade, and some homemade fudge.
I've been coming back about six times a year ever since then. Why so often...? Well, she entertains. Quite often. School events, church events, local singles events, weddings, holidays, bonfires, cookouts, you name it. And she has the perfect house for it. I don't know what acreage is by looking at a property but I'll say that she has at least two football fields worth of cleared land, which is mind-boggling in this area. And the home itself.... Is ideal for company.
This is a by far the largest "island" I've seen in a kitchen. Triangular, with two sinks on one side, a long basin meant to be filled with ice and drinks, one sink on the other side and a wine cooler (wait, I thought Mormans were anti-drinking..?). Three chandeliers for Zoidberg.
Tons of natural lighting. Each window pane has a solarium window above it. Now that I think about it, this kitchen has SIX sinks. And three ovens, two stoves, with a total of ten burners. Half a million drawers, by my best guess.
There's a pool too, although it's pretty standard for this area. Nothing unique here. Some friendly animals though.
Do you think this critter would support my weight? Probably be a speed boost over the Miata.
There's a theater room upstairs, with this sparkly tile on the counter tops where the popcorn maker and drinks are held. ALSO ANOTHER TWO SINKS
Formal dining room. Err... I think. Of the two dining rooms, they're both about equal in terms of formality, but this one is connected to the room dedicated to family photos so I assume that means it's the formal one.
And the main staircase. The house is nice. Well built, about thirty years old, with good quality windows. I don't particularly love the style, but I certainly don't hate it.
That said... I DO hate the three skylights on the left side. The roof is too steep to climb, so I have to get them from the gutter line by long poling off a ladder. Mild inconvenience. My guys all can the homeowner "the Gatorade lady" and practically fight over which crew gets to do her house during the summer months.
Speaking of which, if you're having people come to your home to do labor outside in 90+ degrees... Offer water. Offer drinks. Offer a bathroom. Be a nice human. I promise you'll end up with much better work and much better prices than the guy treating hired work like trash.
This was a good day. Here's what the next job's son drives. Oh and I just noticed that the brick facade is only on the front, normal sideboards along the other sides.