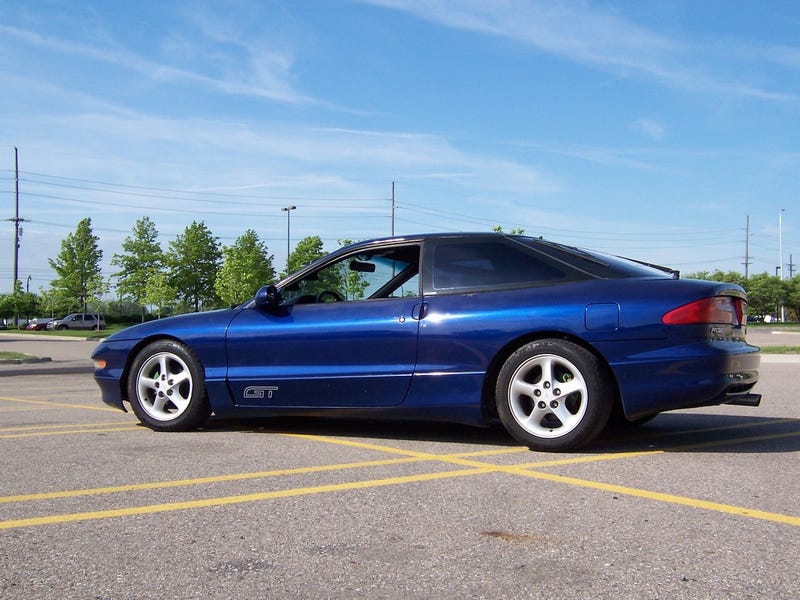 But why doesn't it look as good as it potentially will drive?
How could it be wrong to offer the Focus RS drivetrain and tech, in an actually good looking, sleek body for people who want a performance car that doesn't look like a carp-faced tarted-up econobox?
Is there truly no room in Fords' global, multi-brand repertoire for more coupes than just Mustang, and the ultra-rare upcoming GT?
They have done good looking coupe alternatives to Mustang before... Imagine the Probe GT's looks, with 21st-century tech, 315 horsepower, high end suspension and brakes, with torque-vectoring AWD...
I had one of these Probe GTs back in the day... and it was a wonderful car to own, and it's only big downside was FWD... some torque steer, more than a little under-steer, and over-powering the front tires when trying to accelerate and turn, or in low-traction situations.
My SVX was better in some respects with more power from a bigger flat-6, and with AWD... but it didn't have a manual gearbox, or the lift-back hatch versatility that the Mazda-built Probe GT did. I wished it had the lift back and the stick. Focus RS's drivetrain can do that.
If Focus RS is going to take the fight to WRX STI... maybe Ford could build an SVX successor, a true all-season Grand Touring Coupe, as well, if Subaru isn't going to step up.