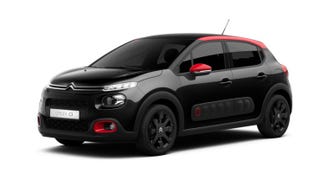 I have been looking at cars for a little bit now and somehow I landed on the page of Citroën and saw this new C3. I like it. The pictured version is one I configured. It's a 1.2L turbocharged three-cylinder engine delivering 110bhp. Sounds like enough to have a little bit of fun in a car this size. This one is also fully optioned, with a lovely panoramic roof and such.
I quite like the dashboard as well. No screen sticking up from the dash, it's in the location where in previous years your buttons would be. Seems logical but I know how many of you hate the recent trend of having the screen quite high in the center.
I like it. I like it so much I might go and see about a test drive and pricing. A quick glance would put this fully optioned one at about €16.000, which is fairly expensive of course. But a similar optioned Fiesta with a worse interior would also be up there. And the more I think about it, the more I would prefer brand new over used, so this would be quite alright.

Oppopinions? Configure yours here (UK site so you will have English language, I'm located in Europe and the local Citroen site does not have the configurator):