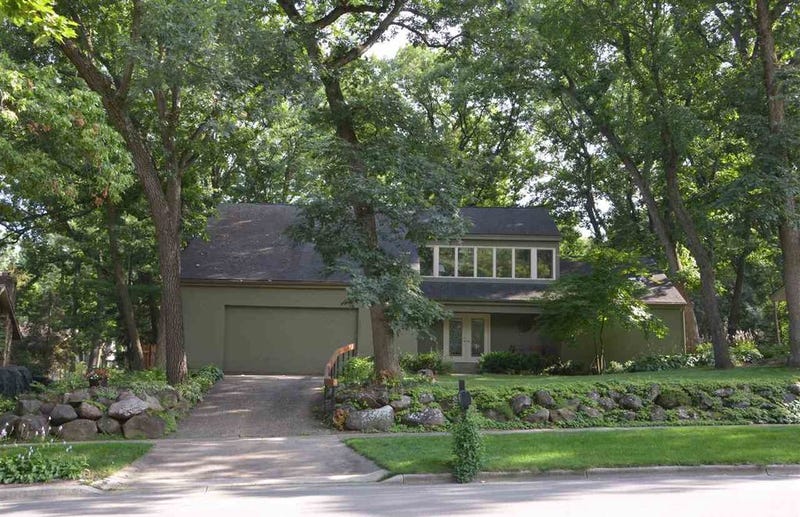 My wife and I are in that "we want to buy a house but can't afford the house we want" stage right now. We just renewed the lease on our townhouse for another year, but I've been keeping my eye out anyway. I love mid-century and contemporary style houses. But sometimes they don't make sense.
The subdivision in Maryland where I grew up was very standard looking early/mid-80s colonial-style suburbia. It was built in 1984. There are a few different models of house in the neighborhood, but for more variety the builder made them in mirror images of each other. My parents' house is an L shape with the garage on the left, but there are other houses just like it with the garage on the right.
The next subdivision over, it was built in 1977, and was all these contemporaries with drab colored painted wood siding and the typical weird contemporary vaulted ceilings and big windows. Here's one for sale right now.
Well, this one's brick, but you get the idea. Big sloping roofs, vaulted ceilings, lots of windows, skylights, etc. Well, it's wood around back.
I always thought that subdivision's houses were way cooler than mine, and since then, I've been drawn to houses in this style, or the earlier mid-century modern. There's something about the vaguely futuristic architecture in a wooded setting that I love.
Here in Madison, there are a halfway decent number of houses like it, including the one at the top of this post.

There's a lot to like about the house here in Madison, even if it is painted a drab green that blends in with the trees surrounding it, and could use some updating in general. But look at all the windows!
Those windows help make the open-to-multiple levels, vaulted ceilings, airy vibe that I am a huge fan of.
The dining room is fantastic, although I can't help but feel like its location in relation to the other informal dining area is a little redundant, since they're literally right around the corner from each other.
Oh and then there's yet another table in the screen porch between them.
"Which table shall we sit at this morning, dear?"
But that's not the weirdest part. Check out the first floor master bedroom.
That's right, there's no bathroom door, and there's a huge chunk of wall missing between the bedroom and bathroom. Yes, it makes for open airiness, but what about when you have to poop and your spouse is sleeping?
Both of these rooms have their own skylights and vaulted ceilings! Why do they need to have a big not-wall between them, and no door?
There are two closets, both located in this bathroom. Maybe there's some other part of the bathroom where the toilet and shower are that's closed off and not part of this closet/sink area? Can't tell from the pictures.
One of the two upstairs bedrooms has one little window, so to get more windows, it has some sort of opening to the hall where there are many windows. This may or may not be a window itself.
This may or may not be useful for parents trying to spy on their kids. Just go in the hall and push aside the blinds! They won't be doing any funny business in there with a big hole in the wall going out to the hall.
Also, who staged this place? So many desks!
In spite of the quirks, this is exactly the sort of house that I dig, and would be perfect with some updates to make it a more current, and maybe redo the upstairs to make the floor plan make some sense.
This style of houses are weird by their nature but the trick is finding one that has just the right level of weird without being all oddball in an un-functional way.
The search continues. Since, you know, I'm not buying a house for at least another year anyway.