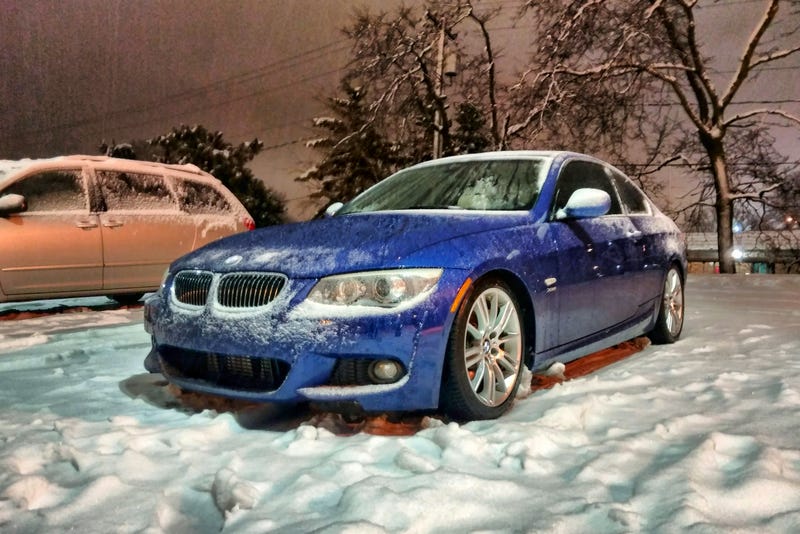 We haven't gotten much snow this winter here in Wisconsin. Instead it's mostly been a bunch of sleet or rain that freezes on the ground that isn't all that interesting for driving, but sure makes it difficult to walk without falling on your ass. Today it snowed!
With my all wheel drive and Michelin Pilot Alpin PA4s, the thing churns through whatever. BMW xDrive starts with a roughly 40/60 front/rear torque split and varies it on the fly so there's no waiting for the front wheels to slip to get the rears to hook up.
Even with my shit ground clearance (which is my own fault with my choice of suspension setup) it keeps going through whatever I've been able to throw at it.
Really the biggest problem is other drivers with cars that aren't as well-suited to the conditions. On both legs of my commute, I got stuck behind a FWD, open differential, crap all-season tires family sedan that would spin one front wheel in vain trying to go up sorta-steep hills. I had to hang back juuuust in case they lost the fight and started rolling backward.
Other things I love: heated seats, WeatherTech floor liners, de-icer windshield washer fluid.
My wife didn't get to play with her Impreza, because she got a snow day. Her job closes when the Madison schools close. But she doesn't exactly get the same jollies as I do from murdering snowflakes, so good for her getting to chill at home.
This reminds me of another blue AWD turbo coupe driving through the snow...