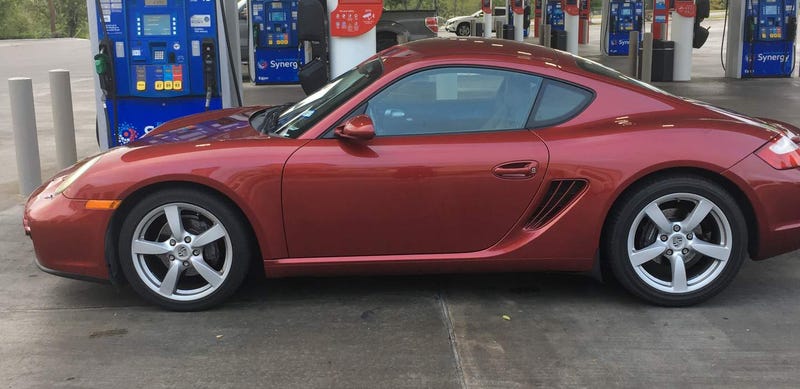 I just got a call from my dad, sounding like a giddy little child, that he's finally going to take me up on my offer to pay for him to rent a fun car for a couple days of driving this weekend. =) Some background: when my dad was young, single and living in Germany, he bought a used 356B Super 90 and when he moved back to the States, be brought it over with him. Not too long after that, he met my mom and they got married. When my oldest brother was born (we'll get back to him in a minute), my dad decided he had to give up his beloved little car, and by the time I came around, had been through a long line of beaters (as any parent trying to support a bunch of kids can understand).
For the past several years, now that he's retired, I've been trying to convince him to buy a fun car to enjoy before he has to give up the keys for good (he's 80). Unfortunately, he's got the Depression-era mentality thing and can't see spending money on anything so frivolous. He and my mom have a nice, old, high-mileage Lexus that they bought used and it has very reliably been getting them around for many years (my mom actually sits in the back often so she can lie down during drives, so he's like her chauffeur - ha!).
When we were together this past Christmas, during a long drive, I once again took up the challenge of convincing him to buy himself a fun car, to no avail. Then, the idea of Turo came into mind, and he was into it! We actually found the exact car pictured above, and I agreed to pay if he wanted to rent it sometime.
Well, months passed, and I figured that maybe he'd decided against it. I had tried... But then I get the call this morning and it's happening! He and my oldest brother, who lives close to him in Austin, are planning to pick it up early Saturday morning and take it out to The Twisted Sisters! I wish it could be me going with him, but I'm so happy he's doing it and that my brother gets to enjoy it as well.
Share the love, OPPO!