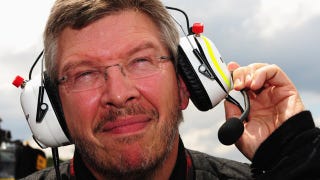 I was thinking this when it happened, he sounded like a school head master and Hammy and Nico were told very sternly what they were to do. I also thought Red Bull was terrible at handling Sebastian. I met Sebastian many times when he was a young quiet rookie and he has obviously become a spoiled prick.
Star of the Race
Ross Brawn. Mercedes, 3rd and 4th
There was more radio drama in the Malaysian Grand Prix than your average Radio 4 afternoon play, and out of it came one strong-minded individual who commanded unflinching respect from his drivers. In the closing six laps of the race Rosberg knew he really ought to hold station (having come out after the final pit-stops in P4, the standard F1 position; that's-your-lot, turn the engines down now). But he felt he had far more pace than P3 Hamilton and was well within DRS range.
Rosberg: "I'm much faster, let me pass (him)."
Brawn: "Negative Nico"
Brawn: "Lewis's pace is what we're asking him to do. He's being controlled as well. He could go a lot faster as well."
Rosberg: "We have to speed up, this is too slow."
Brawn: "Nico, please drop back - there is a massive gap behind, we want to bring both cars home."
And so Nico dropped back. Result.
Of course what Nico Rosberg didn't know at the time was that Hamilton's pace was being controlled only because he'd used up too much fuel to maintain his position and whereas thrifty Nico had enough in his tank not to bother with fuel saving.
Such was the respect for Brawn that the drivers did what they were told. It was obviously serious for a 'grown-up' to come on the radio and spell it out. Would Paddy Lowe command that kind of respect in the heat of battle? Probably not.
Compare and contrast the disciplined approach from head-teacher Brawn, to the team with an art teacher as boss, Christian Horner, who doesn't think he ought to mark his pupils' work and when somebody breaks a rule the most he can come up with is: "This is silly Seb, come on." As Mark Webber said: "Obviously we know Seb is no slouch but you need to have strong people all the way through the team to have everyone having the chance to get the maximum result."