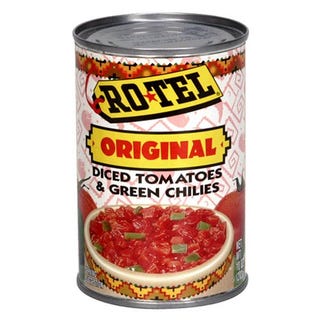 I can cook adequately, but I'm not necessarily good at improvising in the kitchen. Today, though, I really wanted some veggies and I got a wild hair to just start throwing things together. It was awesome.
Here's what I used: a small can of Ro-Tel tomatoes with chilies (not drained), a small can of mushrooms (drained and rinsed), somewhere between 1/2 and 1 cup of diced onions, some olive oil, a bit of seasoning salt (I used Morton's Season All), a dash or so of garlic powder, about a 1/4 cup of V8 juice, some red pepper flakes, and around a teaspoon of cornstarch.
First, put about a tbsp or so of oil in a skillet on medium-high heat, and add the onions and mushrooms once the oil is shimmering a bit. Sprinkle some seasoning salt and garlic powder on it, and cook until lightly browned. Once browned, add the Ro-Tel tomatoes and juice and add the V8. I also added some red pepper flakes at this point. Bring to a boil, and keep stirring. When the juices reduce a bit, add about 1/2-1 tsp of cornstarch and mix well, then reduce heat and simmer for 5-10 minutes.
I made a small omelet and poured this over the top of it. FANTASTIC.