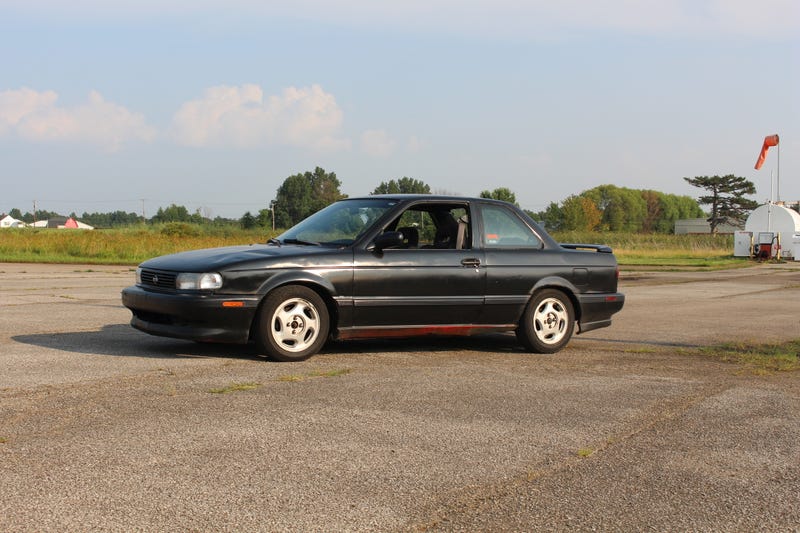 I'm sure you're all familiar, either through your own experience or through friends, of the "in-too-deep" project car. Well, friends, today it's hit me that this is my car...
Today I got a the final piece the stock air intake, the hose connecting the MAF to the throttle body. I should have gotten everything put back together within minutes, and been able to drive for the first time in 2 weeks. Only I didn't, because my Sentra does not have the engine from a Sentra. It's got the exact same engine, which happens to be from an Infiniti G20, which for reasons beyond me came with a different manifold and throttle body from the factory.
So what? Buy a new one!...
Except OEM parts for SR20s don't exist, and shitty aftermarket parts are 90% of what's wrong with my car. And it's not just the intake, either. This exact same thing happened last week when I bought a new exhaust manifold. I went to put the new one on, and surprise! It's the right part, but it doesn't bolt on to the downpipe properly. And OEM downpipes for SR20s don't exist.

What else is wrong with my car? Well I stripped 3 of the holes to screw the valve cover, It won't get in gear from a stop, it stalls while idling, and it needs new axles on the front. And probably 20 other things I don't know about yet...
I know these things aren't even a big deal for many people here, but I've got no time to work on it and even less money. And I can't take it with me to school this fall, so I have 2 more months with it.
I know I'm venting and I'm sorry, but what do you guys think I should do?

P.S.- I should have clarified, I love my car more than anything and I do not want to sell it...