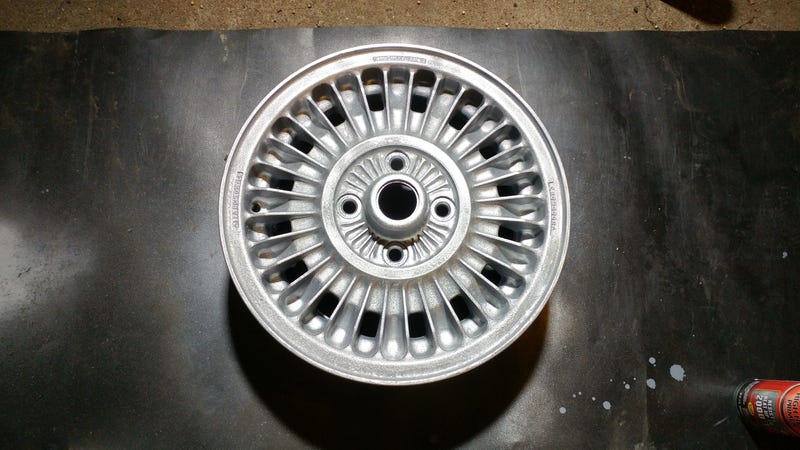 I've never done that before. It went well! They are Cromodora Campanatura wheels, also known as "turbine" wheels, and they are probably the most unloved of the classic Alfa wheels. They are also one of my favorites.
I started by hitting them with two different wheel cleaners with vigorous brushing from a long, stiff (giggle) bristled brush. After rinsing they were treated to a power wash and then dried overnight. The next evening I hit them with two light coats of high temp primer, then two coats (one light, one heavy) of silver wheel paint, followed by two light coats of clear.

Overall I'm happy with the finish and effect. I do wish they were darker and more matte, but I imagine that will come with time and lack of cleaning. Worst case I hit them with some clear matte or translucent spray.

From factory, they would have been an almost-matte, almost-white but on my blackish car I wasn't willing to go quite that bold.
Despite all this, I was also offered a set of super rare wheels, Cromodora Fergat, at a good price. I think I like them, and I like the idea of rarity, but I think I like the Campanaturas better?
What does Oppo think?
Also I guess I should say I also have the Hayashi Perriers that are already on it AND a set of scruffy but serviceable 924 wheels I bought before I found the Campanaturas.
So yeah... don't really need four sets of wheels for one car. Especially when they're all 14s.
Wow. That was a lot of nonsense about wheels. Doggo picture to compensate.