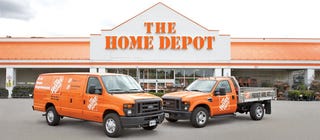 This weekend I rented the Home Depot van. Back story is I bought a king sized bed over the holidays and my truck is currently out of commision so I needed something to get my new bed home.

I checked around at all the local rental places and Home depot had BY FAR the best deal. I only needed a van for about an hour so I did not want to go for a daily rental. Home depot $24.99 for 90 mins with no mileage charge.
The van we got was a 2014 Ford E-250 with only 5,521kms on it. It was the extended version (exactly as pictured) equipped with a 4.6L V8 and a 4spd auto. I'll tell you what I was pretty impressed with it. It was super smooth and quiet. Driving 100km/h on the highway it was only turning 1,750 rpm and was quite pleasant to drive.
We got the bed home with no issues and since then I've been having the most awesome sleeps. We went from a Double to a King so no more elbows to the face in the middle of the night. Best $734 bucks I've ever spent.
Not I sort of want a van. I find it to be WAY more practical than a truck. You can stuff it to the ceiling and don't have to tie anything down. All your shit stays dry, you could use it to go camping with. You can use it as a bug out vehicle when the zombie apocalypse hits.
If I could trade my truck for a GMC Vandura or something similar in similar condition as the truck I'd probably do it.
Boogie vans used to be so in back in the 70's I almost wish this trend would of kept going.