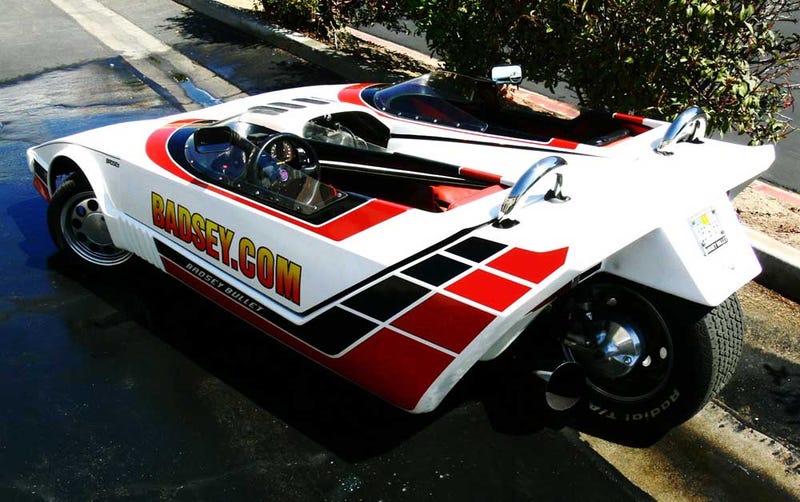 So, there was an ad in a microcar newsletter I get for a Nobel 200 for sale not far from me. The Nobel was the British version of the Fuldamobil microcar and I have a Fuldamobil project car, so I figured this might make a good parts car since they're pretty rare. When I arrive at a small ranch house in the desert, I meet Steve who is underneath one of these:
That's a French Arola sans permis car which means it was so small you could drive it without a license. It's pretty fascinating, but my attention is distracted by something in the garage with a single gigantic rear wheel. The car in the first picture, the Badsey Bullett, a three-wheeler once driven 160mph by Mario Andretti at Indy. Steve owns the prototype that was once on the cover of Popular Mechanics.
Sitting next to it was a Lola like this one:
It's turbocharged V6 was removed, but still.
Scattered around the yard was the only Lightburn Zeta coupe that was purchased at the Bruce Weiner microcar auction:
This Scootacar:
An AC Petite much like this one. A year after this car was built, AC started building the car that would later become the Cobra.
This Allcars Snuggy which made an appearance at both the Concours D'Elegance and the Concours De Lemons:
Plus a Heinkel Trojan microcar, a Mini Comtesse like they have on American Pickers, an HMV Freeway, 2 Frisky microcars, an Isetta, a Peel Trident replica, and this amazing thing:
Yes, a Mazda AZ-1 that he bought at a government impound auction.
Truly amazing. Wish I brought a camera as my phone is garbage. Everything was in various states of disrepair, so I didn't get to drive or ride in anything, but I'll be back. The Mazda was in the best shape, but of course had 2 flat tires. If I had the room and bank account, this is exactly how I'd fill my garage, lawn and living room.