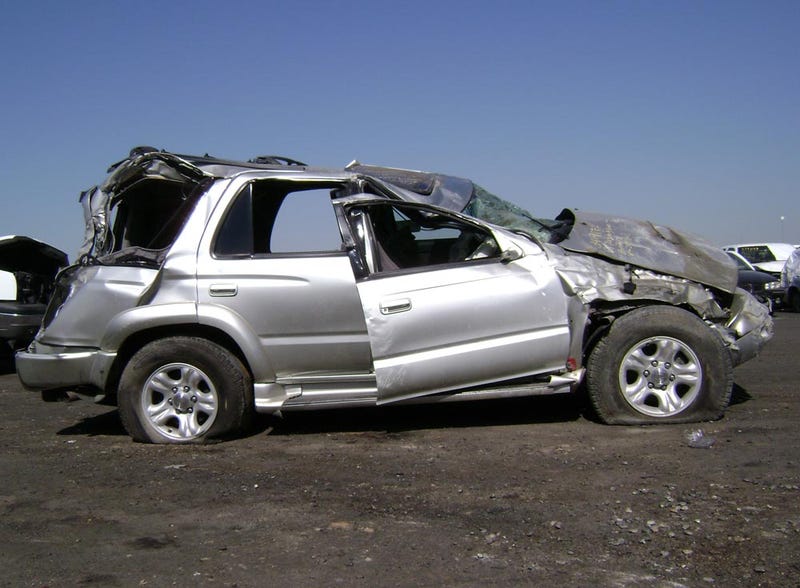 For the past few weeks, I've been looking for potential replacements for my '99 Grand Cherokee winter car. Seems like every time I find something I like, it turns out to have problems. At least I haven't been stuck with a lemon, but I'd like to actually, you know, buy something.
So far, my discoveries have included:
A 2001 Infiniti QX4 (a.k.a. Nissan Pathfinder LE with a different front fascia) that turned out to have mad rust problems.
A 1999 Toyota 4Runner Limited with locking rear differential that I bought and traded in my Jeep for, but it turned out to have a bad transmission so the dealer undid the deal and gave me back my Jeep.
A 2007 4Runner Sport that the same Toyota dealer was willing to give me a good price on for all the trouble with the '99 4Runner, but turns out its 4wd low range isn't engaging.
Today, I looked at an '05 Grand Cherokee Limited with Hemi and Quadra-Drive (a.k.a. front and rear automatic locking differentials). The dealer didn't have any pictures on their website. It had a crunched front bumper, the carfax showed an accident on the driver's rear corner so I checked that wheel well and found a rusting out seam weld. There were shitty LED lights glued to the outside of the headlights, so I looked under the hood for aftermarket wiring, and I found random wires running from the positive battery terminal to a grommet in the firewall. Just bare wires, not even run with some split loom tubing. Fuck that noise.
Then I looked at an '05 Lexus GX470. It was more than I want to spend but it had no nav or 3rd row (both options that I prefer to avoid on the GX) so I figured I'd check it out and see if I could get the dealer to haggle a bunch. The power locks were acting wonky, there was a chip in the windshield, and the headlight lenses were foggy. The dealer was willing to write these fixes into the deal. But the air suspension was also acting wonky, although with some fiddling with the switch I was able to get it to raise and lower itself.
I tried to hammer out some numbers with the dealer anyway, but they were only willing to come off their price by $1000, which was still out of my budget. Probably for the best, because if the air suspension goes out, it can cost a shitload of money to fix.
I have a specific list of vehicles I'm looking at, and yet every time I find an example of one of my options, something is wrong with it.
Time to keep on looking.
Oh and before people start inevitably chiming in with a bunch of suggestions, here's my list. I don't want anything else.
'02-'10 Grand Cherokee with Quadra-Drive
'99-'00 4Runner Limited with rear locking diff
'03-'09 4Runner Limited without air suspension
'01-'04 Pathfinder LE
'01-'03 QX4
'01-'06 Montero Limited