With a kid and now two dogs, I've started to think that I might like a little more practicality in my daily driver. I have an FJ80 Land Cruiser for winter, hardware and garden store runs, hiking, muddy dog parks, and bigger groups, but my DD E46 M3 is a little tight for many purposes. And a 12-year-old German performance car is a little worrisome in terms of unexpected expensive maintenance. Even though the mileage is low, I had an unwelcome $4500 bill last summer—surprise! I have to think it won't be the last one.
And so, looking for a warranty and four doors—and maybe a hatch—I started thinking about wagons, and crossovers, and small SUVs. I don't need a track weapon but I do want to have fun on mountain roads, and I really don't want to lose much power. Unfortunately, since Americans buy muscle cars and European sports cars, and Americans buy fuel-efficient, practical crossovers and gas-guzzling SUVs, but Americans apparently will not buy practical family cars that are also fast (i.e. wagons), there sort of...aren't any. So I went and drove a Mercedes GLA45 AMG.
It's every bit as loud and quick as the reviews would have you believe. The adjustable exhaust makes a great, raspy growl, comfort and sport/manual mode really makes a difference, and manual shifts with the dual-clutch box are quick and satisfying. And while there's a tiny bit of lag in the turbo, boy does the power make up for it when it comes on. All that and decent gas mileage, too! While it feels very planted, you can definitely tell the AWD is very front-biased, unfortunately. That said, it would be a very fun car to drive around on a daily basis.

It's actually a very nice size, and at least passenger-wise makes good use of its relatively small space—rear legroom was surprisingly decent, even behind my seat (I'm 6'3" and not skinny) although headroom is tight in the back for tall people. It has good cargo space—in fact, with the seats down, capacity is better than the Volvo V60 and both bigger and more usable than the Porsche Macan.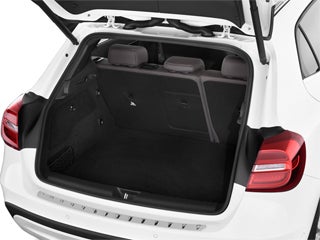 However, it isn't quite the right shape for my purposes: because of the relatively steep rake of the hatch (for a crossover anyway), the rear seat headrests are right in the back window, which means a dog of useful size can't really sit up and look out the window like in the back of a wagon. My husky and German Shepherd would fit back there fine...but only lying down. So I'd have to drive around with one seat folded down if I wanted them to have a little more room, but that would make it possible for them to get on the leather, the avoidance of which is basically the only reason to get a hatchback instead of a sedan, for me at least.
The interior on the one I drove (white over black-with-red-trim leather) was impossibly gaudy, with carbon-fiber inserts and red circles around the chrome vents and red seat belts, but this failed to distract from the fact that the interior materials (other than the seats, which were great) are pretty sub-par. I wasn't going to buy that one, but had the option to reserve a nicely optioned black-on-black one for delivery next month. That interior was not Cadillac ATS-V shiny-black-plastic-and-plastic-chrome bad, but not up to the usual German car standard either. On the base GLA250, for $35k, this would be fine and wouldn't bother me. But on the GLA45, which you simply cannot find without every option package taking it up over $60k MSRP, it just doesn't seem right.
Overall, it was a fun drive and I'm glad someone's offering a lunatic 375-horsepower hatchback with torque for days and all the toys, even if I have a hard time imagining that they'll sell all that many. I couldn't shake the feeling that I'd much prefer to spend less money on something a couple years old with a CPO or CarMax warranty, and get a nicer interior and more performance to boot. And since the hatch area doesn't really solve a sedan's layout problem for dog transportation, why bother? Most days it's just my kid and I on the way to school and then work anyway, and soon enough he'll be driving himself a lot of the time... and so I find myself looking at E90 M3s and C63 AMGs online, and then immediately kicking myself and wondering if a warranty and two more doors are really worth the investment. In conclusion, damn Audi for not bringing the RS4 or RS6 Avants over in, say, 2012.