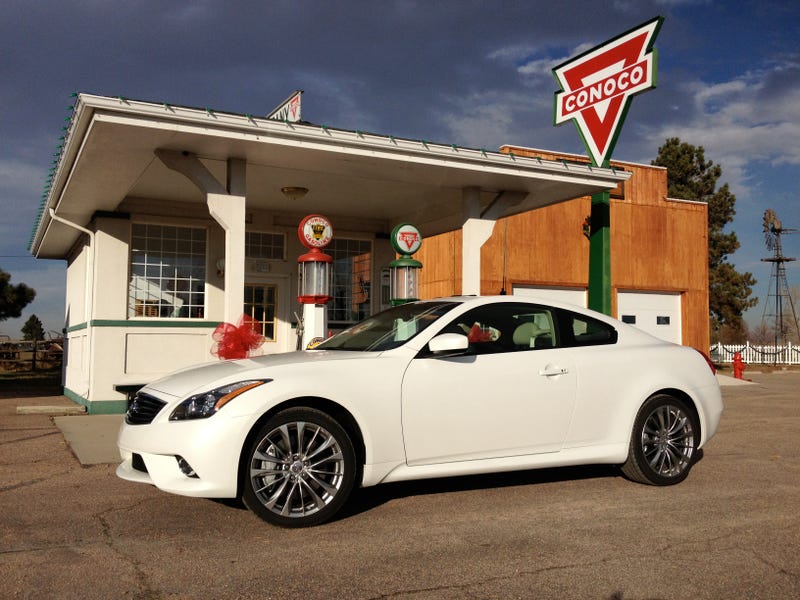 My vehicular arrangement is going to be changing in the near-ish future. For many reasons. I'm now sort of drawn to getting a CPO Infiniti G37xS Coupe. Here's why.
Right now I have a leased 2013 BMW 135is DCT and a 2005 Jeep Grand Cherokee Limited that I own. My gf has a leased 2013 Honda Civic. We live in a townhouse with a 1-car garage and plenty of outdoor parking. The leases on the BMW and Civic both end this summer.
I got the BMW and Jeep before we lived together, and since we moved in, I've been storing the BMW in winters. We alternate using the garage a week at a time and it doesn't make sense to tie up the garage with the BMW while it's sitting for the winter. So I'm not going to keep up this nonsense of having 2 cars for myself.
She's pretty much decided on a Honda HR-V as her next car, and I'm going to just turn in the BMW and drive my Jeep for a while. Even though I find the Jeep ok, I don't think I want to have it as my primary car long term. It's just not quite my style. Also for my new job, I have to do semi-frequent trips to places anywhere from 1-3 hours away, and the Jeep gets terrible gas mileage.
I want something fun to drive, awd, comfy on the highway, that gets halfway decent mileage. I have an irrational desire towards more than just basic awd, which is how I ended up with a Hemi Grand Cherokee, because I was fixated on getting the uprated Quadra-Drive II 4wd system with its 3 eLSDs, instead of just one center eLSD on the base Quadra-Trac II 4wd.
Anyway. G37xS. They can be had for relatively cheap, and it ticks the boxes for what I want. I landed on the coupe because the sedan has blobby sorta-ugly proportions, and the Sport package on the G37x sedan is neutered. The rwd G37S coupe and sedan get a body kit, 19" wheels, big brakes, sport seats, paddle shifters, sport suspension, quicker steering ratio, and rear LSD. The G37xS coupe loses the quicker steering ratio but is otherwise the same, plus awd. But compared to the G37xS coupe, the G37xS sedan loses the brakes, suspension, and LSD. Booo.
To be honest, these Enkei wheels on the Sport package are kinda ugly, but I'm more impressed by the brakes and LSD. Now I probably don't need either of these things, but I want these things, which is why I'm leaning toward the coupe.
But hey, this won't happen for probably a year. Unless I get the itch to get it this summer after I turn in my BMW. But I'm trying to keep my costs down. If anything, the decision will probably come down to how much my first couple quarterly bonuses at this new job look. DECISIONS, DECISIONS.