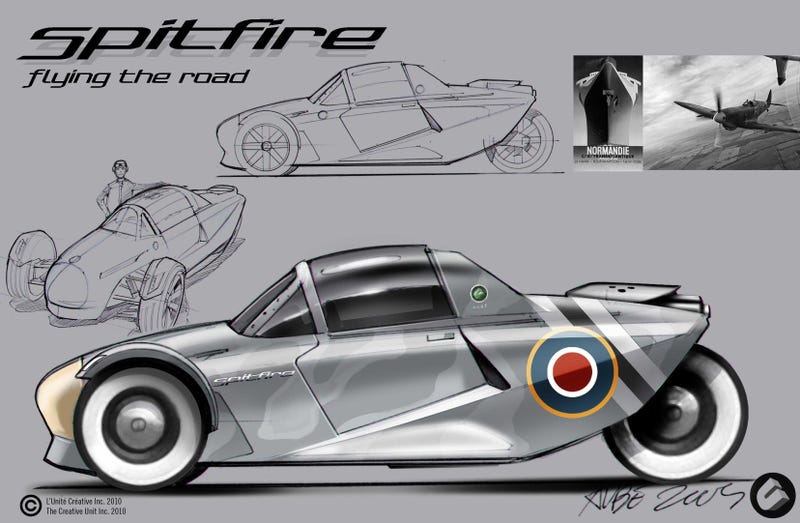 With enough cargo space for a backpack, brief-case, or lunch box, maybe a jacket, and a basic tool kit... What else is necessary?
I could go one of two ways... Front engined (more like a single-seat Morgan three-wheeler), or aft-mid engined, somewhat like this Motomobile UCI Mark III Spitfire... but probably a bit longer with a gas engine. This concept is plug-in-electric, evidently
Front engined: Triumph Rocket III engine and radiator between the front suspension, with a driveshaft as low as possible under the seat, driving a rear shaft drive swing arm, like a Honda VFR1200, BMW Paralelver EVO, or Moto Guzzi CARC drive.
With a streamlined '38 Ford Coupe style grille and narrow hood... with exposed sides, (Rocket III engine is cool looking on the sides... and the top is made to be up against a motorcycle frame) and cycle fenders over the front tires. the cargo area would be behind the single seat.
With a mid-engine, the front end could be more pointed, and enclosed, as the cargo area, and the space behind the seat and a firewall would be for the engine.
I am split between BMW's new water-cooled boxer 1200 engine with integrated 6-speed gearbox, or a K1600GT's transverse I6. Radiator could be at the front, or dual smaller radiators above/aft of the engine, fed by side ducts. Of course, those are ready made for Paralever EVO rear suspension and shaft drive.
Either way, some sort of intermediate gear reverse mechanism might have to be installed between the gearbox output and the shaft drive, to give the vehicle a reverse gear, since it can't be walked back like a motorcycle.
I like the single-seat canopy arrangement, for a vehicle without accommodations for a passenger, especially if the canopy slides back for open air.
Give it modern control systems, paddle shifting for the sequential gearbox, and modern gauges (LCD panel showing digital and analog representations, and a HUD. A fighter plane for the road needs a HUD.)
Equip it with good rain-ready motorcycle tires (wide front or narrow rear motorcycle tires for the car's front wheels, and an almost chopper-esque wide rear tire, and it will still have a good amount of contact patch area for a three wheeler.
A suspension set up for a bit of roll and counter steer, like a bike, and it will feel like flying on the ground.
Then just have a winter AWD beater when the weather gets too nasty. I have been commuting in the Miata lately... and have come to realize, when I am commuting alone... it is simultaneously cramped on the driver's side, and the passenger's side is un-used. If I were car-pooling, I would be driving my bigger sedan anyway.