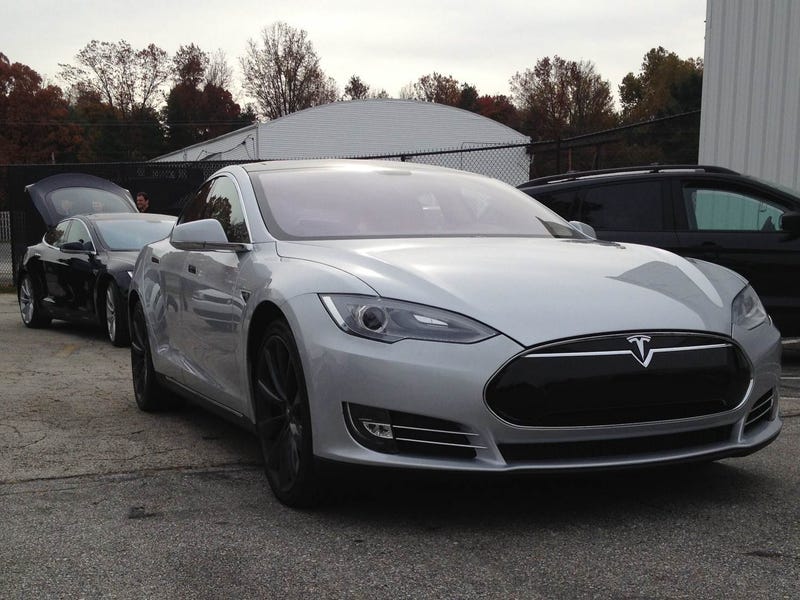 This is the Tesla Model S P85, which is the line-topping performance version. Tesla was thoughtful enough to arrange for test drives at a local airstrip and a friend of mine who is a huge fan of the brand (and of Mr. Musk, in general) wasted no time registering on the event's website. The only problem was that he had no way to get out to the airfield from center city Philadelphia for his 9:15am Saturday appointment. That's where I come in.
Following an epic Friday night full of dudestuff - specifically, a Macallan tasting then an ingenious event hosted by Deschutes Brewery called Beer-lesque: Tastings & Tassels, which is exactly what it sounds like it is - we awoke at an outrageously early hour and drove out to the event.
We arrived to quite a scene: a handful of Teslas outside a hangar and strips of tarmac littered with private aircraft. Not bad (insert meme here). I now wish we would've taken some pictures of the planes.
The tables were littered with interior samples and breakfast stuffs. Just off to the right of this potato'd picture was a Cirrus aircraft, which I believe was an SR20 model. Oh, the irony!
So Tesla's website tells me the following about the P85: 265 miles range (EPA), 416 hp, 4.2 seconds 0-60, 130 mph top speed. Also relevant is that it weighs about 4,700 lbs., which is distributed 48% to the front and 52% to the rear. The car was fitted with Michelin tires, but not the Super Sports - I believe they were PS2s (weren't those discontinued? I really don't know).
Even though I didn't register ahead of time Tesla was cool with letting me sign up on the spot, and we all headed out in the lovely P85 shown above in the first picture.
Technically, we weren't on the actual runway because it was in use...by airplanes. My friend drove first and took us down to the end of the taxiway that runs parallel to the main runway. He got us turned around and was encouraged by the Tesla rep to step on it.
As a passenger in the back seat I can tell you that the very first thing I noticed was the sound. The batteries, and no doubt the components of the traction system, were working at full tilt. The sound is hard to describe. Kind of like a hum but with a lot more zing. Basically it sounds like the future. The second thing I noticed was how quickly it was whisking us along. It was very fast but without being very dramatic. I guess you'd expect that. Next thing I knew we were at 118 mph and my friend was beginning to brake. We did this a couple more times and then it was my turn!
I felt I had a pretty good concept of the straight line acceleration from my friend's runs, but I gave it a whirl once just for the heck of it. This car has a suspension setting that allows for a lower ride height, so of course I used that. The settings menu is seen in the picture above. On my run I got to 123 mph before braking. I easily could've hit the 130 mph limiter had I tried it again because I did have some braking area to spare (but, hey, it wasn't my car...).
My impressions? Well, I can hardly believe it weighs 4,700 lbs. That's about 1,000 pounds heavier than my E90 M3. You really can't feel it in normal driving. Even at threshold braking the weight isn't really apparent. I think if it were pushed to the limit on track the weight would present itself in the form of understeer. I'm sure someone has already done an on-track review with the P85 (if you know of one please link it!).
I also took it out on the street, where it behaved perfectly pleasantly. The regenerative braking produces a very natural deceleration feel when you lift off the throttle. It feels very much like there's an internal combustion engine in there slowing you down. I would say I was entirely acclimated to the car in the first 5 minutes, which I wasn't expecting as I've never driven a full electric car before.
Another thing: the utility! The back hatch opens high enough to be out of the way, the 60/40 split-folding rear seats open up what seems like acres of space and, just when you think you might be able to fill that up, there's the 911-style frunk. I'm told there are even rear-facing seats for children (and/or drunk adults).
Before this event I had my reservations about the Model S - the range would suck I said (it doesn't, and charging is becoming more convenient all the time), it would be full of batteries and the interior would be oddly configured I said (not at all - felt as spacious as a 5 series) and that huge screen in place of a traditional center stack is just TOO much screen I said (but when you're driving it feels instantly natural to anyone who has ever used a smart phone or tablet).
So what's the take-away? I think I really would consider one now as a commuter car, and I'm not surprised that I see so many showing up at my office. I think there are 3 already. It's too soon to know what a secondary market for these would look like but I can imagine the Model S (or its successor) quickly becoming a huge pain in the rear for companies like BMW, Lexus, Mercedes and even Acura.
If you're at all curious about the Model S I'd say go take one for a spin. The Tesla representatives were fantastically knowledgeable and didn't try to make me buy one. At this point, I think the company is happy to have people driving their cars and becoming educated about the technology.