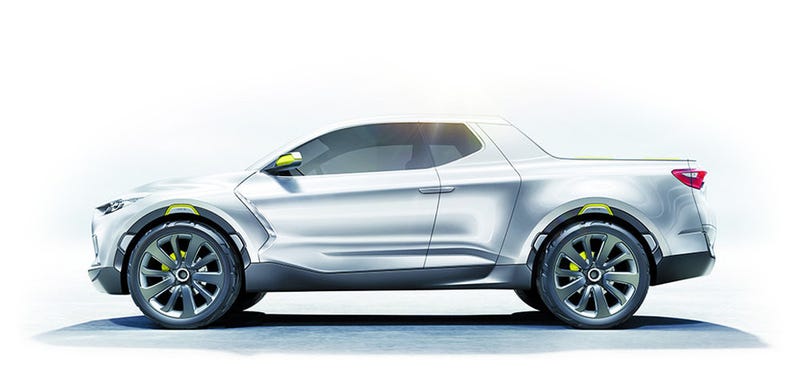 I've been trying to figure out a way for the Santa Cruz pickup to work. Oppo, I still have no good reason for a production version of this vehicle to exist. Thankfully though, I do have an incredibly disappointing theory!
Currently Hyundai offers two midsize CUVs that are both named the Santa Fe. In the US they call the smaller, 2-row CUV the Santa Fe Sport and the larger, 3-row CUV the Santa Fe. It's shooting them in the foot only because they look exactly the same! Don't make two different vehicles that look identical and share identical names all while using a trim designation that includes the only word that distinguishes the two from one another. If you're confused just reading that then you'll be confused buying them.
*Note that Range Rover/Sport, Discovery/Sport, Outlander/Sport, and US-Market Rogue/Sport all appear to be completely different vehicles. This is where Santa Fe/Sport dropped the ball.
Alright Oppo, pickup your phone because I'm calling it now, the next Hyundai Santa Fe will only be available as a 3-row CUV and grow to same size as the current Honda Pilot. What we know in the US as the Santa Fe Sport will be replaced by a slightly larger 2-row only CUV that will be called the Santa Cruz and have a similar faux-outdoorsy machismo to the design as the concept. However that means no ute-like profile and open bed out back, crikey!
*This also fixes that whole Santa Fe and Santa Fe XL mess that is going on everywhere else. Funny that the US gets a small version of the big car while everyone else gets a big version of the smaller car...marketing!
If Hyundai does decide to make a pickup truck then it will be attached to the future Santa Cruz lineup. That would place it just slightly smaller than the new Honda Ridgeline, which is a pretty large vehicle honestly.
But consider that by the end of this decade the US market will have the Toyota Tacoma, Nissan Frontier, Chevrolet Colorado, GMC Canyon, Honda Ridgeline, Ford Ranger, and Jeep Comanche filling up the midsize truck market. Is there any time in which the Hyundai truck offers more appeal? Especially without offering a full passenger cabin in order to keep the proportions in a FWD-based 4-cyl only trucklet.
They need to build it based on one of their RWD vehicles (G90, G80, K900, Stinger, G70, or either of the upcoming SUV models) and make a Ridgeline with luxury sedan ride and handling.