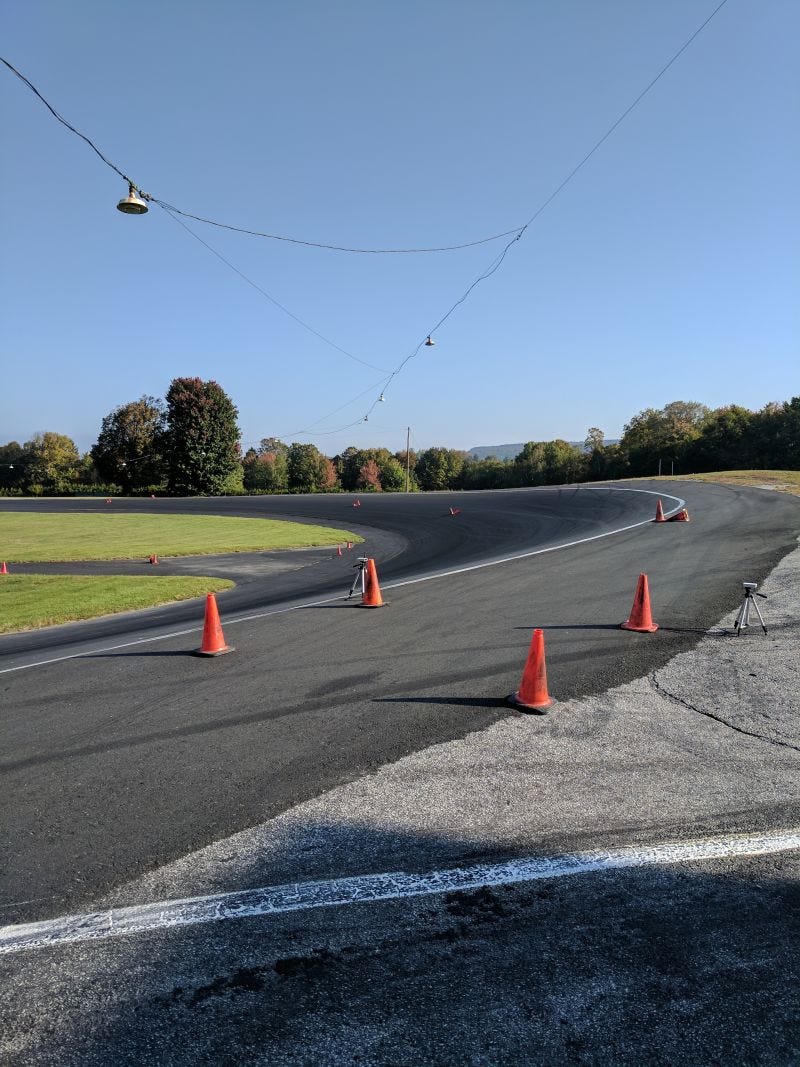 Went to the SCCV event at Thunder Road Speedway in Barre VT. Autocrossing on a banked oval is tons of fun. The course was super fast and I actually had a ton of grip with my not great for autocross tires.
Here's a rough map of what the course looked like though the surface was reworked and there are differences to the infield. Start at the dot and loop around twice to the X. The squigly bit on the front stretch was one of the tightest chicaines I have ever driven and right before the turn around was the single biggest troll gate I have ever seen. It was only about 7 feet wide and screwed with you both as you were entering the full lock hairpin and when you were trying to make a run to the finish. I only made 2 runs where I didn't take that gate out at least once.
In the end my best run was a 67.091 with 1 cone (that damn final gate). This was good for 45th overall (out of 50 cars) and 5th in class (out of 6 cars). I'm kicking myself for a lapse of concentration caused by stability control intervention which caused me to hit 2 cones on my way to a 66.128. That time would have put me 36th overall and 3rd in class.
In the end I am happy with the results. I wasn't pushing and trying new things because there was too much risk associated with going off at this venue. My goal was simply to have fun and not be last and I achieved both goals. At next weekends event I am going to be turning off the traction and stability controls and experimenting in the name of finding speed.
I also need to figure out what kind of witchcraft the 2013 Cooper in my class used to run a 60.214.