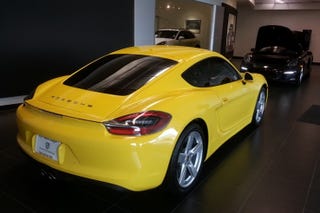 ...and it was an EXCELLENT experience.
Misses Valve Gear and I were enjoying our Saturday together, and naturally discussion turned toward cars... including not only my recent disappointing experiences with the Ford dealer, but also what we are going to do when the time comes to replace her car.
As the Misses prefers small hatchbacks, we decided we would go peruse the local Honda dealer and take a look at the Fit - which seems to be her leading contender to replace her beloved Yaris.
I suggested that I would like to stop at the Porsche dealer (which was conveniently located on the way to the Honda dealer) and look at a 718 / Cayman. I do like the looks of the 718, and have never had an opportunity to see one close up, let alone get a look at the inside. Now, I'm just a working man, so there wasn't any danger of losing my mind and buying one today. But, perhaps sometime, a 718 might be a viable option for us. No harm in looking, right?
Honestly, we did discuss how we would be received at the Porsche dealer. We were in my Mustang, and I was dressed in a T-shirt and jeans with a "50 Years" Mustang cap... you know, typical workingman attire. But, only one way to find out...
It just so happens that the dealer not only has Porsche, but also VW and Mitsubishi. We rolled in the lot and cruised about, just seeing what they had, and was flagged down by a young salesman (who's name I can't recall). Very nice guy, very helpful, not pushy at all. I was upfront about us looking around, and mentioned that we wanted to look at a 718 if we could... just interested to see one in person. We took a quick look at the Mitsubishi Mirage - after all, my wife's aging Yaris will need to be replaced sometime - and then the young salesman handed us off to a Porsche salesman, Michael.
Michael was professional, cordial, friendly and knowledgeable. He took us to the Boxster first, since it was easier to show us the interior without a roof in the way. He insisted that I sit in it, adjust the seat, and get a feel for the car... and then invited my wife to get in the passenger's seat as well. I was a bit surprised at the relatively high placement of the gearshift lever (manual transmission) but it really felt great, in spite of what initially struck me as an awkward looking location. Michael opened up the trunk and hood to show us the storage space without us even asking. He was very attentive and gracious the entire time.
Now, mind you, he did this for a middle aged couple that just rolled in the parking lot in a low-end Mustang. A couple that told him up front that they were only interested in seeing a Cayman up close. He was talking to a guy wearing a Carhart denim jacket and old cowboy boots. Honestly, I was prepared to get brushed off, but Michael was the consummate professional.
After looking over the Boxster, Michael gave us his card as we discussed service requirements and the associated costs with him. At this point, another couple walked into the showroom - actual customers that had made an appointment - and Michael apologetically excused himself as he needed to honor their appointment time (as was the proper thing for him to do). However, he encouraged us to look over any of the vehicles in the showroom (they are all unlocked, please take your time!) and suggested that I could call him with any additional questions, or he would be happy to make an appointment with me even if I just wanted to come in and talk about the cars.
My wife and I dawdled for a few minutes, taking a closer look at the yellow Cayman seen in the picture above. The interior was beautiful, and like a lot of cars, pictures just don't do justice to the shape of the body. I love the look of the yellow, but I prefer a more muted color for my personal vehicles.

We finally exited the showroom, got in our cheap Mustang, and headed down to the Honda dealer. But we left impressed with both salesmen. Whatever the dealer is paying Michael, he is worth every penny. No, I wasn't a buyer today, or anytime soon... but I guarantee that should the day arrive when I am ready to buy a Porsche product, I will go to that same dealer and ask for Michael by name. And after my poor experiences with Ford, I may forget about buying a new Mustang GT, and start saving up for a 718 instead.