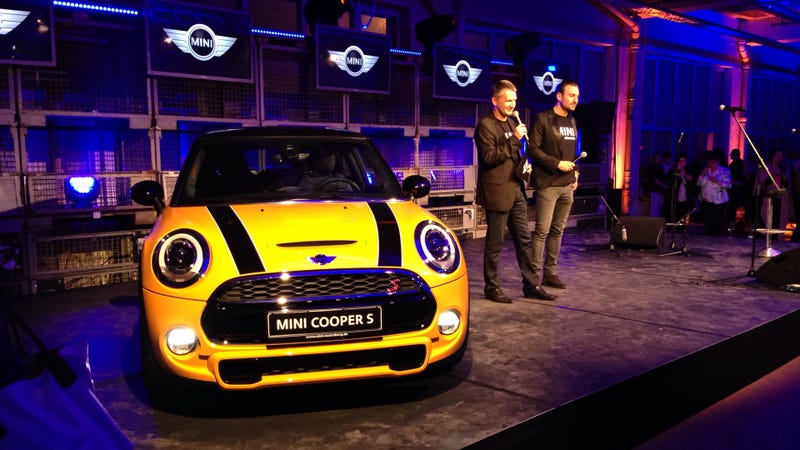 Everyone loves a free meal. Everyone loves free drinks. Everyone loves fancy meals and alcoholic free drinks even more. So somehow, I ended up spending a Thursday night in a loft, electro songs blasting from the speakers, eating snacks from tiny, square plates while taking a look at what Mini calls the "The New Original".
*****
How did I get in? As a male, not broke, but not loaded business student, driving a family-handed Fiat (There will be an Oppo review as soon as the summer tires are on!), I am not exactly their target group. But there is a Mini in the family. My mum bought one a few years ago. A blue One, with pretty much no extras. It is all the car she needs, and considering she is well known for being overtaxed with any form of technology, I am glad that the car has as few buttons as possible.
So, with the event being a customer presentation of the new car, she received an invitation. That was my ticket in. My old man heard of the free drinks and decided to join me, without any interest in cars or even Minis at all.
I arrived just on time and had a good laugh parking my wagon. The especially reserved guest parking area consisted of 85% top-of-the-range-options-ticked Minis and 14% BMWs. And 1% Italian shitbox after I left my car and made my way to the location.
Oh the location. Could it be any more fitting? It was a loft. A former industrial site where washing machines and dishwashers "made in Germany" were screwed together. Hipster/artists love the areal, and I wasn't surprised that it was Mini who decided to hold an event there.
From the outside, it all looked fairly low key. The building was not in the best shape, but far from grunge or what I imagine Detroit looks like. A few Minis were on display, a few were driving around, giving shuttle rides to the parking spots. There even was a bouncer, but one of the nicer types. While I was waiting outside for dad to join me, I noticed what kind of people were coming. I wore my old leather jacket, jeans, K-Swiss sneakers and a grey shirt with a British flag printed on it.
As for the other guests: Why are there so many suits I asked myself. What is it with all the grey hair and younger women?
It was time to go inside, and not soon after I tasted the first little dish (Roastbeef on bread, delicious), one of the Mini guys stopped by. He was the typical oh-so-charming sales man: the smile too bright to be honest, the hair to styled to look casual, his mood too positive to be taken seriously. Also, a lot of hugging, high fiving and other forms of "youth" body gestures were involved, which amused me when he approached my father (50) to greet him in the same way. Awkwardness and uncomfortableness on one side at least.
It was time to move on through the loft; furniture was spare, and if there was some, it had to look cool and laid-back. And old stuff. Old stuff is in again. And credit where credit is due, the guys from the local dealership did a fine job dressing up the hall.
Pinball and space invasion arcade. Palette-made sofas and square stools. An old regulator-fabrication-thing. Fridges with free drinks all around the loft. A wall, live painted by a street artist (which he now can't claim to be anymore, as he sold out to do legal, boring indoor stuff. What a hypocrit.). They really brought out the full arsenal.
There was just one problem with the whole thing. The audience was wrong. In particular, I could see the ironic clash of what Mini wants to be, and what Mini customers actually are.
The sales man crew on one hand: Sportive shoes (Chucks, Airmax, that sort), the Mini branded shirt representing the new car, skinny jeans and – of course – a sportsjacket. It is the impersonation of what society and glossy magazines understand as a young, successful, but modern and in no way pedantic person. Young performers if you will.
And what they met was elbow patches. Something that was cool 2 years ago (How I met your mother was brilliant and the craze back then!), and now looks ridiculous if you are over 23 years old. The alternative was a full grey suit, a popular option the more silver arrow like your hair looks. Instead of T-Shirts, white shirts were popular. I guess it is easier to hide prosperity spare tyre in there.
*****
It is a problem I see for the whole BMW Group. The original Mini was a revolutionary car. It showed how to maximize space, and it was rather cheap. Economic reasoning was as essential to its success as was motorsport history. Minis unforgettably won the world's toughest rally, the Rally Monte Carlo. It all came together to give it the cool aura of effortless achievement, and thanks to its affordability, it also became known as a car that was popular with the younger crowd.
Since 2001 and the New Mini Cooper, things have changed. BMW opened the niche of the luxury small car. Pay more for less usability, get a stylish exterior for compensation. They pushed their car with the iconic badge and the customers associations that came with it, when in truth it had none of the original traits if you exclude the over used Go-Kart handling. It sold, but how long can they keep it up? How long can you rest a brands recognition on marketing pillars that have vanished completely?
And just like the car, the customers changed. If BMW would be really aiming for young people, they wouldn't bring out a space invaders arcade and inviting the guest to relive part of their youth with it. It implies a 40 year old customer at minimum.
Then there is the interior of the new one Mini. Special guest and Mini Design Chief Anders Warming tried to sell it as innovation, when in fact it is an adaption to customer demands. The speedo and tachometer were moved to the conventional place behind the steering wheel, as were the buttons for the windows. No more playful but unpractical features – the new Mini buyers are older and don't like inconvenience over style, but don't want to admit it. You know, that would be uncool.
At this point I can summarize the actual reasoning behind the launch party: It was made to look young, but was made for the old. It was planned to keep the illusion of the Mini brand alive by surrounding the potential customers and money spenders with objects and humans they would associate with youth and casual fanciness. To feel young and hip, they would be ready to spend more money on a car. Brilliant.
With Oppo being a car forum mainly, here are a few things I noticed about the new Mini itself, the first one to switch from Rover R-codes to BMW development codes (F56 in this case). The interior is far nicer than before material wise. It probably had to do with the way the cars were configured, because they all would have cost more than 35 thousand euros (48 thousand in yanks money). It seems to be more spacious inside too, although the rear bench is still more of an extended storage area than a proper seating arrangement. On the outside, it didn't really improve. The front end looks big and too curved, the rear lights are way too big, and the Cooper S sports what has got to be the worst front bumper designed in recent years. My favourite thing about the whole new car was a trivial feature: An exposed chrome filler cap. It looked surprisingly classy and oldschool sportscar against the bright yellow/orange paint.
*****
I grabbed a coke and a delicious dessert, chocolate/cherry brownies of some sort, and let the party come to an end. Not before getting taught by my dad how to play real, physical pinball. It was a first for me, as I am simply too young to have lived in an era where those things were existent in bars…