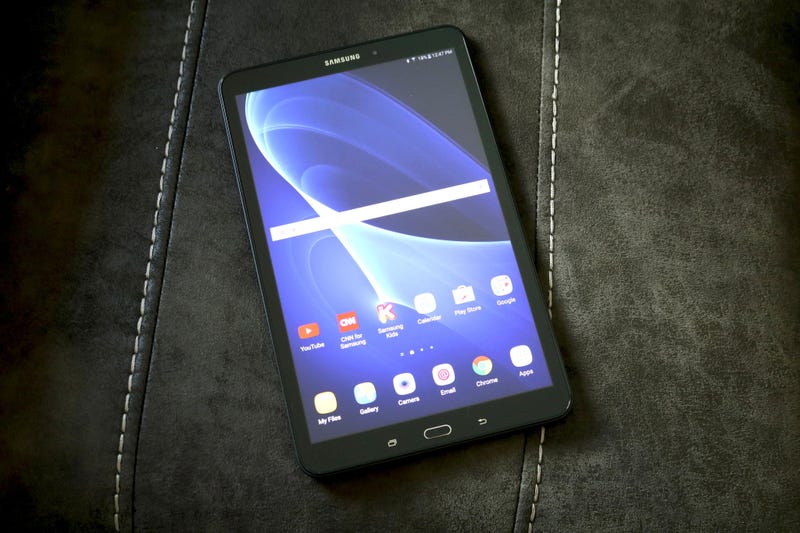 Last week I posted that somehow Samsung replaced the standard behavior of Android app switching with multi-window options. Well, turns out I was wrong. So I bought my wife a Samsung Galaxy Tab A 10.1, which I am now returning.

I had gone to Best Buy and tried out multiple Android tablets. For whatever reason, when I tried to switch between apps, they were not switching between apps, and instead were only giving multi-window options when tapping on an app in the recent apps screen. I reviewed the manuals and couldn't find any definitive information about this behavior, so I incorrectly assumed this was how the tablets were designed to work.
I went back to Best Buy another time and tried the same Samsung tablets, and magically they switched between apps just fine, with no stupid multi-window options. Maybe someone had messed with the multi-window settings on multiple Samsung tablets at my local Best Buy, and at some point they were cleared out and reset back to defaults. I don't know, but multi-window options is in fact not the default behavior in the Samsung tablet recent apps screens.
Somewhere along the way, my wife mentioned that she was hoping to get a bigger/better screen than her current cheap little 8" Acer tablet and its grainy 1280x800 resolution. I was skeptical that she would actually go for a 10" tablet, but I narrowed the choices down to the Galaxy Tab A 10.1, the Asus Zenpad 3S 10, and the not-yet-released Lenovo Tab 4 10 Plus. Best Buy had the regular not-Pro iPad on sale for $299 but she didn't want to learn an Apple device.
I wanted to give her the chance to play with a new tablet over the long weekend, so I bought the Galaxy Tab A 10.1 from Best Buy, even though I thought it would be too big and chunky for what my wife wants. When held vertically, it's very narrow for a 10" tablet, but with its 16:10 aspect ratio it's also very wide along the long edge, and heavy at 525g vs. 430g for the Zenpad 3S 10 or 389g for the Galaxy Tab S2 9.7.

So I brought it home, took it out of the box and showed it to her. The immediate reaction was, "I'm pretty sure this is too big but I'll try it." I synced it to her Google account, let it download her apps, then installed the Android 7.0 Nougat update, which is actually nice. Once the default Samsung launcher and keyboard are replaced with Nova and Gboard, the overall experience is relatively bloat-free, although I hate that Samsung insists on switching the back and recent apps buttons compared to every other Android device. The Samsung Exynos 7870 CPU is a mid-range chip like the Snapdragon 625, and with 2 GB of RAM, it's generally fine, and mostly smooth, but it's not up to the the speed and smoothness of flagship-level Android devices.
She briefly played with it, and decided that yes, this was in fact too big. So I ordered a Zenpad 3S 10 from Newegg, and it'll be here in a few days. It's thinner, lighter, and the 4:3 aspect ratio will probably be more manageable for her to hold. But I have a feeling she might think that one is too big also. I'll be sorta tempted to keep it for myself even though I have a 2 year-old Lenovo Yoga Tab 2 10.1, but I probably shouldn't.
The next move for my wife if she thinks the Zenpad 3S 10 is still too big is a Huawei Mediapad M3, which has an 8.4" 16:10 screen with 2560x1600 resolution, and I think may well be the best choice for her since she says she wants something better for watching videos but also not huge. So we'll see.