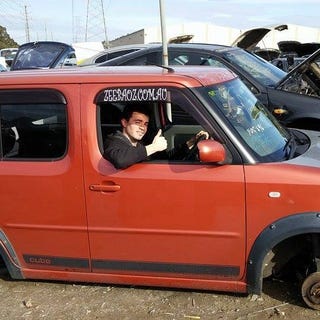 I went to a wrecker's yesterday Oppo, looking for a bumper for my girlfriend's Lancer. Didn't find one, found a Cube, sat in it.

The wrap-around rear window was smashed. Turns out there's just a body-color pillar under there like any other car, wish I'd taken a photo! I don't really know what I expected to find, but it was cool.

Also found an N12 EXA/Pulsar NX. I love the later N13 (mostly because of the t-tops), but this thing was awesome. It's a damn shame so few of these awesome 80s cars are preserved.


Yes, there is TURBO badging on both sides, 4 of the seats and the goddam instrument cluster. Because a boost gauge (measured in…what the hell units is that?) isn't an obvious enough reminder of the turbo. This sort of stuff is a bit silly, but at least it's character, something severely lacking from far too many modern cars. Or maybe I'm getting starry-eyed for an era because I never had to live through it.
Sorry about the pics, didn't really plan on posting them when I took them. Was just trying to capture the awesome.