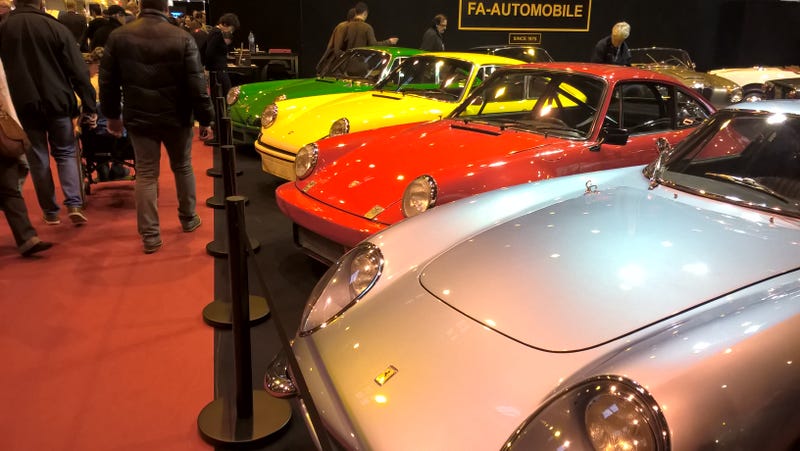 I left a few hours later, with my repertoire of curse words completely emptied, both in French and in English. And a good load of pictures for you guys! WARNING: can cause weird reactions if you have any inclination towards old and weird cars. Also, pretty long post!

I was only just in the salon itself, and got assaulted by that massive thing:
A few meters after that were the amazing Alpine and Renault stands.
Some of Renault's record cars, including one of my favorite things ever, the Etoile Filante (shooting star):
Renault proudly displayed some of its F1 heritage, in line with its comeback in 2016. Too bad the new car wasn't here, or at least a show car with the new livery.

In comparison, I found Peugeot and Citroen's stands to be a bit smaller. Nothing to be sneezed at though!
The Porsche stand was predictably bonkers:
Jaguar's or Aston Martin's official stands were more subdued, but still offered some surprises:
Then it was time for me to dive into the see of private stands, always full of incredible stuff. Cars are presented by insurance companies, magazines, restoration shops, owners clubs, and so on. After this will come the real party-piece: the auctions stands. So hang on! These are mental.
Intermission: the weirdest cars. With no enough wheels, or in the wrong place, this is the stuff that makes its way into another of those Jason Drives videos:
Ok, now take a deep breath, we're going for the big boys.
I guess there's some irony to be found in the fact that the rarer and most expensive cars were the one that were put for sale. I have more of these, but I fear I would lose even the most dedicated jalop.
In a dark alley, the ACO was exposing some cars from its 110-years-long history:
After that was a big hall almost entirely dedicated to the cars auctionned by Artcurials, who were busy cashing on around $40 millions from a Ferrari 335 Scaglietti. Sadly, when I was there, the cars were being sold downstairs and so weren't on the stand. Some were left behind though:
Pictured: people spending almost a million bucks on a 959:

BONUS ROUND:
Now that I've ha a bit of time to reflect back on all of that madness, I must confess that I think it was a bit too much. I mean, I can't complain, really. But because there was always something awesome somewhere else, I never could spend long minutes with one of my personal favorites. Say, there was "only" one of these massive auction stands, well that'd be enough for a day for me. Well, first world problems I guess! Also, it gives me excuses for the loooong post.

2016 is already pretty awesome, and it's looking good for the rest of the year.