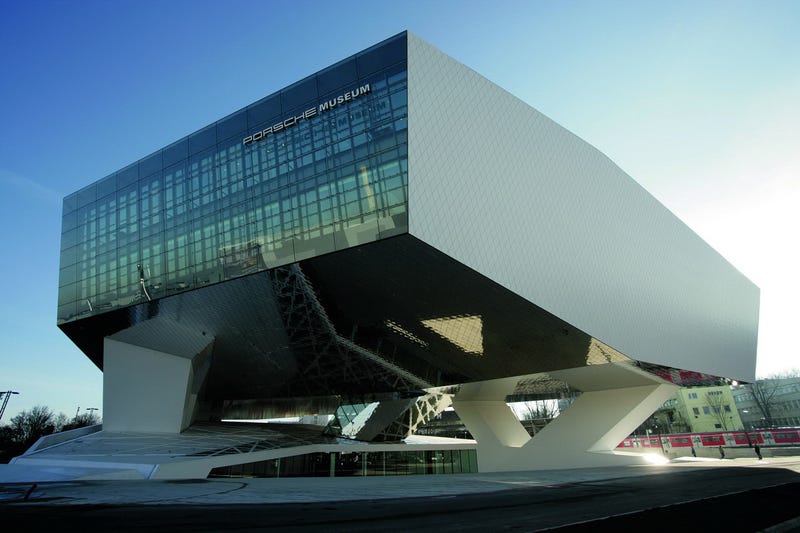 In mid-March, my University class went on a trip to Stuttgart in Germany. Because I study Automotive Design, this meant hitting up some car museums (like a mofo), and Stuttgart has two of the best in the world. We visited both, but I'll start with Porsche.
First of all, it's a pretty impressive piece of architecture. That said, I didn't really look much higher than the reflective exterior ceiling when I was actually standing there [above picture isn't mine]. I was already looking at Porsches, as there was a Pussy-Magnet Yellow 964 Carrera sat outside the door to entice you in. I was buzzing before I was inside, having been a Porsche fan for a long time, and while it's a fair bit smaller than the multi-storey Mercedes Museum (which, to be fair, covers the entire history of the motor car), Porsche's shrine to itself didn't disappoint. I mean, the cafeteria had a full-height window into a workshop, and sat inside was a 935 Moby Dick and a flat-6 Indycar proto that never raced! As with Mercedes, I collected a collector's ticket for my museum ticket collection, a collection which now contains... two.
Here it is, and here's the real-life 917 Langheck that's on it. Below is my ENTIRE museum collector's ticket collection, and a pair of postcards. If you want to see the hundred-odd passable photos I took inside the museum itself, and I'm pretty sure you do, clicketh hither to see them.
It was my equivalent of Disneyland, and I hadn't been that excited for a long time. I'll remember that day for years to come. Road cars, racing cars, concepts, prototypes, engineering projects, cars from the very beginning and even the recently-discovered Lohner-Porsche electric vehicle from 1898, it was all there... except for the 918 Spyder. Not the 2011 concept, not a prototype, nothing. I was disappointed at that, right up until I saw a Carrera GT sat alongside a 996 GT1. And a 959 S. And a 904 Carrera GTS. And a 550 Spyder. And a shitload of trophies.
What this building lacks in quantity compared to Mercedes, it makes up for in quality, from one of the first electric cars to Le Mans winners, a Dakar winner, concepts, prototypes and road cars from the first all the way through to the latest machinery from one of the world's most prestigious sports car companies. Take a look for yourself!