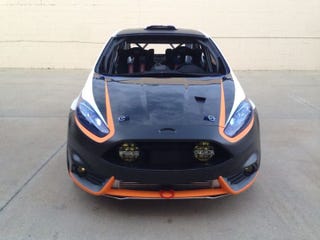 Almost done. Purpose built car. From Keith:
Ice Nine designed the carbon fiber hood, carbon roof plug and vent, carbon quarter windows, carbon rear wing and carbon door panels. Our friends at Team O'Neil did an amazing job with the spec cage, underbody protection, custom Bilstien shocks, custom hand brake and many other items. We built this car to be a dual purpose race car that can be used on and off the pavement. I had the chance to test drive the car yesterday and the power adders along with the suspension upgrades really made it come alive! Not that the Fiesta ST is a slouch!
Lot of cool pieces in this one. Look for it on Ford's stage in Vegas! Along with a couple other builds by Ice Nine...