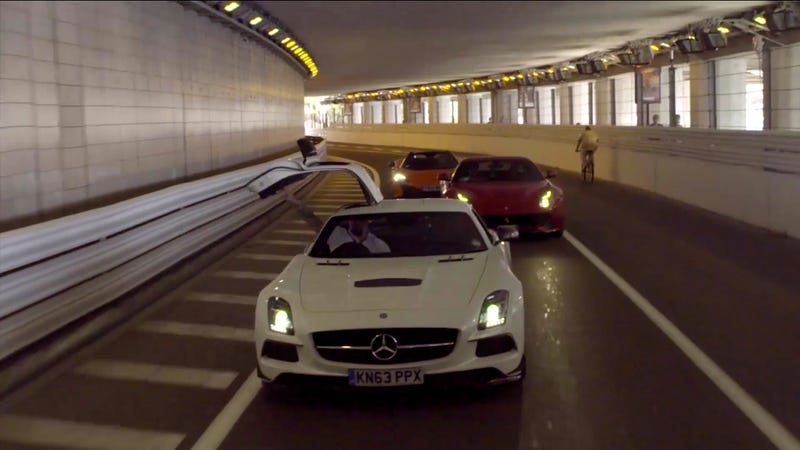 Unless you're living under a rock around here, you probably know that the guys from /Drive have moved from YouTube to the big time, well at least to a 3rd tier cable network. But don't take my cynicism as criticism. Lamentations of American programming for enthusiasts are unfortunately in abundance around these parts. Somewhere there was an NBC producer who saw the value of the excellent writing and production values of most of /Drive's work and decided to take it for spin on cable. The occasion for giving the guys a try was the Monaco Grand Prix. The "guys" are Mike Spinelli, Matt Farah, and Chris Harris.
The show is, in a word, fantastic. As usual the writing and production values are top notch. Apparently network TV execs are starting to see this. Perhaps someday we'll see Petrolicious on TV as well. In the case of /Drive, the viewer is given a feast for the eyes. The production value equals or surpasses anything available on VelocityTV or the former Speed Channel. This is Top Gear UK quality stuff, minus the funky filters TGUK uses. This is not a bad thing. The hosts are much, much, better than what is currently offered on TV for enthusiasts. While Jeremy Clarkson & Co. can be entertaining, they fall flat frequently on seriously looking at the machines they are driving. TGUK is far more concerned about keeping the audience entertained. /Drive caters to the enthusiast, but doesn't leave out some amazing vistas of their drive along the Route Napoleon.
Harris, Farah, and Spinelli take time to stop, soak in the views, but most importantly share their impressions of their rides. Oh and these are some rides. Chris Harris tantalizes the viewer with a lovely Ferrari F12 Berlinetta starting out in Maranello and driving up to Calais to meet the others. Matt Farah drives a somewhat gaudy Mercedes SLS Black. Mike Spinelli does his cruise in an orange McLaren 650S Spider. All of these cars are magnificent. You'll have to watch to see who has the "best" car, at least for the task at hand.
This show really is for you. The guys from /Drive even took some time to answer questions from readers and it's pretty interesting to peruse. Perhaps our friend NoSubs asked the most important question: What do you drive?
Matt Farah: 2013 Chevy Volt, 2008 Honda Odyssey EXL, 1988 Ford Mustang SSP, 1998 Corvette C5, 1983 Delorean, 2003 Aston Martin Vanquish
Mike Spinelli: Right now, I have a 2000 MR2 Spyder that I expected to keep for a few months, and ended up hanging on to it for nine years. It's the perfect poverty sports car for those of us who subsist on the freelance hustle. Looking for the next toy, though. Any suggestions?
Chris Harris: Er: B8 Audi S4, Mercedes E350 CDI, E28 M5, E30 M3, 512 TR, FF, Range Rover. Citroen 2CV, AX GT. That looks even more ridiculous written down.
These guys are the real deal. Of course that's something you probably already knew. Now it's time to search your listings, setup a season pass on your DVR and add to the enjoyment /Drive brings already on YouTube.