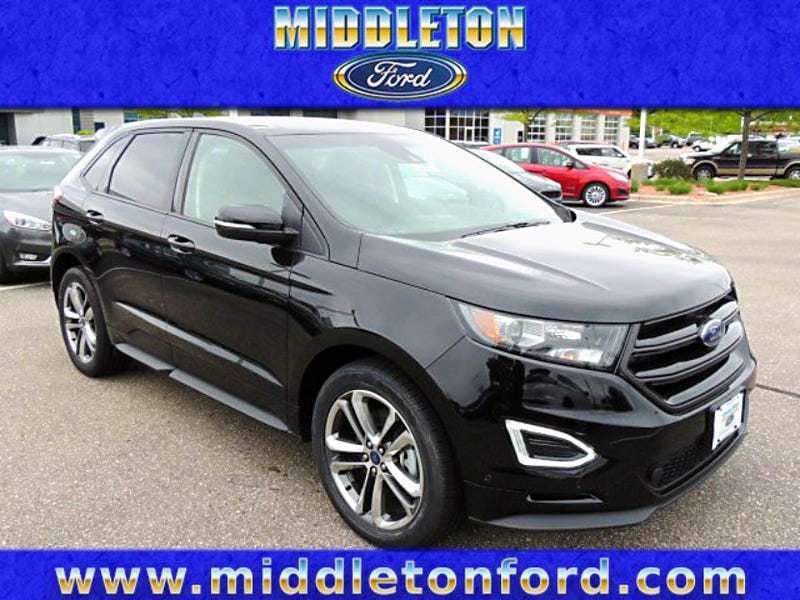 Even though I have no plans to sell my 335xi anytime soon, I often think about the two ways I would replace it: A) one awd car that's more practical/comfy, but still fun; B) cheaper/older SUV/crossover + stupid fun/project car. Option A led me to test drive a Ford Edge Sport with its 315 hp 2.7 liter twin turbo V6.

As a result of my test drive, I will not be buying an Edge Sport. It's a boring midsize crossover with a slightly more sporting suspension and a nice motor. But other than the quickness available, there's nothing else that gives any sense of driving fun. It's...fine. But not exciting at all.
Nice things about the Edge Sport include plenty of gizmos and room for 5 people and cargo. The ride is comfy but not super plush. It's quiet like you would expect. The alcantara-like upholstery on the seats gave a nice premium-ness to an otherwise boring interior. The front seats are ventilated and I love me some ventilated seats. The panoramic sunroof is huge and makes the cabin feel very open in spite of the high beltline. The motor is in fact quite nice. It's not exactly fun to chuck around corners, but I did a slight bit of hustling around some back roads and it was generally ok in these situations.

Aside from the overall boringness, I had a few minor quibbles. The variable-ratio steering which some reviewers have praised, to me, just made it more difficult to predict how the car would behave and irritatingly hard to place into a parking space. It seemed inconsistent about when it would decide to quicken the steering ratio. Perhaps with time I'd get more used to it.
Ford does this thing with their seats where the angle of the bottom cushion is always too steep. I like the bottom cushion of my seat to be relatively flat, but with some thigh support. Most cars are totally fine in this regard but Ford's seat adjusters, particularly on their power seats, don't let you flatten out the seat bottom enough. The bottom is always too tilt-y for me.

The interior overall was fine, but there wasn't much in the way of design. It's just...there. Some of the materials are cheap looking hard plastic, especially around the center stack where there's a large area of blank hard plastic surrounding the volume knob, and the nav screen surround. I'm not super picky about interior materials or design but for a $46k sticker price there's really not much going on here. There was a persistent rattle coming from the cup holder/shifter area.

You can get a lighter colored interior—complete with dark carpets as god intended—on other Edge trims...
...but on the Sport, which is the only trim that offers the 2.7 liter EcoBoost V6, your only option is the boring-ass black interior.

So, if you want an un-snobby midsize crossover that's fine, maybe even nice, that happens to have a nice amount of power above and beyond the typical midsize crossover, the Edge Sport could be just the thing for you. But unfortunately the engine doesn't make the overall package all that fun to drive or otherwise interesting.
I was hoping I could add the Edge Sport to my short list of fun crossovers with usable back seats, which currently sits at the BMW X3 35i and Infiniti FX, but nope, it doesn't make the cut.
That being said, the particular black-on-black Edge Sport that I drove is a demo with something like 5,000 miles on it. With Equipment Group 401A (navigation, blind spot warning, remote start, auto-dim mirror, lane keep assist, heated/cooled front seats, heated rear seats, front 180-degree camera, active park assist, rain sensing wipers), cold weather package (heated steering wheel & all-weather floor mats), and panoramic sunroof, the sticker price is $46,585. The dealer's website is advertising it at $40,102 which is the $43,952 invoice price minus $3850 worth of incentives. Maybe they'd knock something more off for it being demo.
COME ON DOWN FOR LOW LOW PRICES.
(Oh, and they also have a Focus RS chilling in the showroom.)