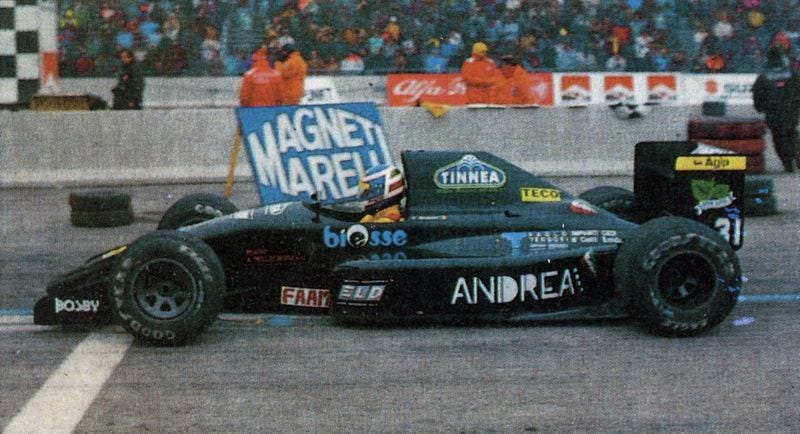 Non-Championship F1 events used to be a normal part of the F1 calender through the years. Only some races were chosen to count towards the final championship standings. For example, in 1950 twenty-two races were held but only six of those counted towards the World Championship. Many people believe the final of these non-Championship F1 events held to be the 1983 Race of Champions at Brands Hatch, but a few other sources claim it was something much, much different.
Between 1988 and 1996 the Bolonga Motor Show hosted an event called the 'Trofeo Indoor Formula 1'. The event was curiously, an outdoor sprint race that was held around a short, tight, and twisty course at the motor show. At the very first event in 1988, the first teams showed up. They were; Minardi, EuroBrun, Osella, BMS Dallara, and FIRST. The latter were actually not an F1 constructor at the time and instead entered their Formula 3000 car which was 5 seconds off the pace. The competitors were arranged into three quarter finals which were to be head to head sprints around the short track and the fastest loser from those would also go through into the semi finals. The '88 event was won by Luis Perez-Sala in the Minardi after the other finalist Alex Caffi crashed, and every year (excluding 1994) the event was held up until 1996, where a young Italian by the name of Giancarlo Fisichella won driving his Benetton in the final Indoor Trophy event to be held.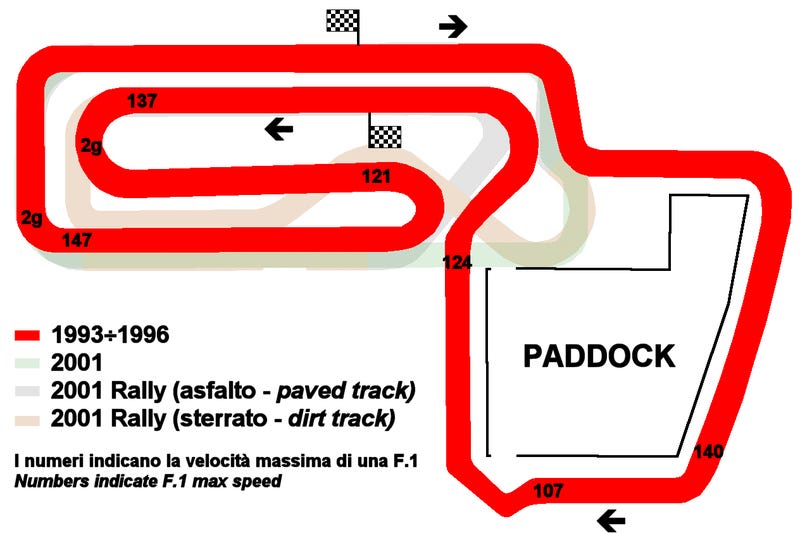 The event was held in December of each year around a small track around 1.3km long and a good time was considered around 52 seconds. You won't be suprised to know that because it was held in winter, the event was often very cold and wet and these conditions combined with the tricky circuit meant the event was actually rather challenging. It wasn't uncommon for some drivers to have accidents, Jarno Trulli doing just that in 1996. As the course diagram above shows, high speeds were also reached.
In 1997 it was decided that the event would become a Formula 3000 only occasion, and this small Formula 1 event with past winners such as Rubens Barrichello, Johnny Herbet and Gabriele Tarquini was no more.
I was so interested when I heard about this event that I actually e-mailed the FIA this morning to ask them if they ever sanctioned the event in Bologna, and if they officially recognise any particular event as being the last non-Championship event run. When I asked a local F1 expert, he told me that the chances are they didn't, as the event was held in the off-season and it wasn't a traditional race. He also told me that non-Championship events were usually held during the course of a season. This all makes perfect sense to me, but it didn't stop me asking the FIA anyway and I'm looking forward to receiving some answers from them regarding this matter. In the meantime I'd like to leave you with a fantastic link to a list of drivers and teams who competed in this exciting event, in which you'll find Minardi are the most successful team ever to compete. Although none of the top teams ever competed, a number of talented and famous competitors entered this event. JJ Lehto, Michele Alboreto, Alex Zanardi to name a few. Could it also be that Fisichella and not Keke Rosberg was the last man to win a non-Championship F1 event? If I receive a reply from the FIA, I'll be sure to post another blog entry, but in the meantime, I hope you enjoyed this story of perhaps the final non-Championship event in F1.
COMPLETE LIST OF RESULTS AND ENTRANTS OF THE TROFEO INDOOR FORMULA 1
Credits
Scott Russell at GlobalF1.net, who first wrote about this event in 2009.
f1nostaliga.blogspot.co.uk, who provided the title photo of Antonio Tamburini lining up on the start line at the 1991 event in the Andrea Moda F1 car.