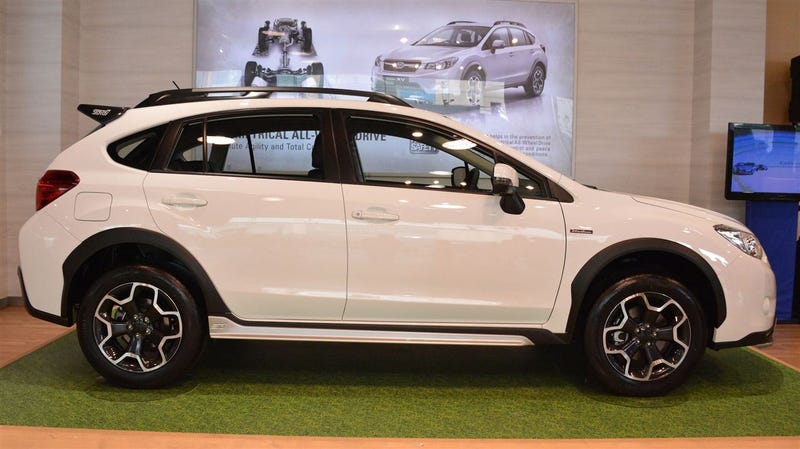 Winter is here, holidays are winding down, and driving in the snow belt is getting challenging again. It makes me think of what car I really wish I had to combat all this, and have some fun in the bleakness of winter. And I have plenty of time to think about it.
And I am not talking about weak accessory-catalog efforts. I am talking about using a manufacturer's existing tech and parts to build a car from the wheels up, unlike they seem to be willing to do.
Body: Forester or XV Crosstrek... Perhaps even combining XV Crosstrek chassis with the roofline, frameless glass coupe doors, and rear gate of the Cross Sport concept, as a 3-door shooting brake. (maybe with a different trailing angle on the rear quarter glass, but very similar to this)
Engine: Everybody loves the turbocharger now... where Subaru was a champion of turbocharging before, and is mostly behind the curve now, save for only the FA20DIT engine in the WRX and FXT, but it is not exactly pushing the bounds of current tech and power output levels. With the advent of the Focus RS, subaru needs to up it's game.
EZ34DIT. Here's how to build it.
Take EZ36D block. De-stroke the crankshaft, and use FA20DIT 86mm connecting rods, with the EZ36D's stock 92mm bore diameter, with forged moderate compression pistons. 92mm bore x 86mm stroke x 6 cylinders = ~3.4 liters displacement.
Modify EZ-series heads (perhaps EZ30R) with the Dual-AVCS cam timing, and replace the EZ30R AVLS valve lift device with parent-company Toyota's Valvematic valve-lift adjustability, also with D-4S port and direct injection, with a bias toward direct injection, with just enough port fuel injection to cool and clean the intake tract and avoid carbon build up.
point the exhaust manifolds forward, and mount the twin turbochargers under and just beside the crankshaft pulley at the front of the engine, like the single turbo on the FA20DIT.
The performance of Porsche Carrera for the price of Ford EcoBoost V6.
Drivetrain:
Keep the tried and true STI gearbox, although with the Legacy 3.0R Spec.B overseas lower, wider-interval gear ratios, rather than the current STI's narrow and high-RPM gearing. I would also consider a dual-clutch automated gearbox, re-packaged into Subaru's specified AWD layout. Porsche PDK/Audi DSG has done it for many years... Subaru should be capable of it, and a CVT won't cut it for a performance-driving application, or anywhere near the torque of a twin turbo flat-6.
Keep the STI's DCCD, with front electronic locking differential, and Torsen rear torque-biasing differential, and add a rear brake-induced traction control and torque vectoring assist feature. If it must have an electronic parking brake, perhaps a mechanical-hydraulic hand brake lever for just the rear main caliper circuits for driver controlled yaw angle. Of course that would come with the R180 or perhaps R200 rear differential housing, robust prop shaft and axle shafts, wheel bearings from the STI or Tribeca, monoblock brake calipers, brembo optional, and 5x114.3 hubs with ARP wheel studs.
Interior: STI Limited grade, or similar to the Cross Sport Design concept or Viziv Future concept. (The fold-flat-forward passenger seat option would be handy.)
Suspension:
Bilstein PSS system electronically adjustable dampers, with cross-linked pneumo-hydraulic springs (like Citroen used to have and McLaren now uses, but obviously not at McLaren race-track-ready sophistication levels)
Damping and anti-roll characteristics tied in to SI-Drive vehicle dynamics control, with automatic or manual ride height control, between 5.5-9" of ground clearance.
Other amenities:
fully modern amenities suite, with retained accessory power, full auto window controls, rain sensor enabled wipers, and auto-close if windows or sunroof are left open when parked and rain is detected. Auto vent sunroof if interior temperature rises while parked and not raining.
Owner-serving telematics that are not necessarily required to report to a connected online service, and owner authorized internet access via smart phone or personal cellular hot-spot. Compatible and bi-directional with Apple CarPlay, or Android Auto smart-phone coherence, with keyless entry and start, with personalized memory for seats, mirrors, active dash and infotainment settings, also with remote start if the car is in neutral, and the parking brake is set. (disabled if the car is parked in gear),
EyeSight with infrared spectrum (night vision) assisted object detection, automated high-beam headlight selection, and dash-cam downloadable video buffer. LED lighting throughout, including high and low beam headlights, DRLs, and selective-yellow LED foglights, with three-color LED tail lights, including a rear fog high-brightness function, and amber/white 'switchback' turn signal and reverse lights.
This is a car Subaru could, but doesn't build. For the ~$40K that Subaru charges for a loaded WRX STI, now more than half-way through the 2010-20 decade, after selling WRX STI with the same drivetrain for 10 years, and the fact that CUVS are eating sedans' lunch for real and practical reasons with cargo versatility, and capability on broken pavement, or off-pavement, Subaru should be selling this sort of performance car, be it 3 or 5 doors, for ~$40K, not a sedan with a good, but retirement-ready engine, and a suspension that can't clear a parking lot speed bump. Rally cars are not that low to the ground for a reason.
Anyway, that is what I would build if I gained access to Subaru's production capabilities. Something that would actually pique my interest, unlike Subaru's current lineup. A bit better of a concept than "the Homer", I think.
A production-grade, well-appointed, purposefully engineered rally car to take over the real world, reliably, every day, anywhere.
What do you think of it, or what otherwise would you build, from your favorite brand?