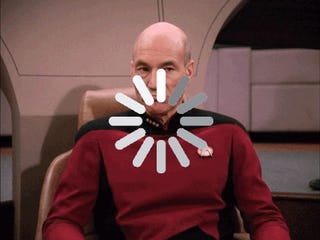 Somehow, through the wonders of Amazon Prime logistics, the Netgear wifi router I bought on Cyber Monday arrived on Tuesday afternoon. But it refused to work until I updated the firmware. Maybe I can save you some aggravation.

When I first hooked up the router, it refused to connect to my cable modem. Then I remembered when I was scouring the reviews yesterday I bumped into some article about Netgear routers having some kind of security vulnerability that has since been patched. So I decided to update the firmware. Then it worked.
Also, if you were hoping to run DD-WRT or some other tweaker firmware on this router, you're probably out of luck. There are DD-WRT builds for the original R6700 model but I received an R6700v2 which apparently is not supported.

Personally I don't care about DD-WRT. I just want my router to work. And now that I updated the firmware and got it to connect, streaming quality for live events in the ESPN and NBCSN apps on the Roku and Chromecast in my living room is now nice and stable. I had one brief moment of NBCSN going pixelated on my Chromecast. But I used a wifi analyzer app on my phone to manually set the channels and since then everything has been flawless.
But just in case, I ordered a little HDMI extender cable to space the Chromecast away from the back of my stereo receiver that it's plugged into. I remember reading somewhere that sometimes people get better wifi signals to their streaming dongles if they use these little extender cables.
So, assuming you're like me and just want the router to work, and you're fine without the ability to install some custom firmware, here's how to update to the latest official Netgear firmware.

Before setting up your new router, while your old router is still connected, download the latest firmware version 1.2.0.8 to your computer. (If that link doesn't work, go to the Netgear downloads page and enter R6700v2, then it should give you a link to download Firmware Version 1.2.0.8.) The download is a .zip file, and it contains a .img file which you'll need to extract so you can upload it to the router.

When you first connect your new router to your cable modem, it probably won't connect to the internet. Assuming this is the case, it will ask if you want to use the Netgear Genie auto-setup wizard to detect internet connections. Select no and follow the assorted prompts to set up manually. It will prompt you to set up security questions and a password, and then eventually it will take you to a screen like this:
Click on the Advanced tab at the top, then Administration on the menu on the left, and Firmware Update.
From here, upload the .img file that you downloaded. It'll take a few minutes to update the firmware. Once it does, the router still probably won't connect to the internet. Turn off both the modem and the router, then power the modem back up, let it fully boot up, then turn the router back on and let it boot up.
If your experience goes like mine, the router should automatically connect to the modem as expected. From here you can go through the setup, change your network name, password, etc. I went into the Advanced Setup section so I could make all the blinky LEDs on the thing less aggressive. You can either leave them blinking, have them stay on, or turn off everything except the power LED. I did this because all the LEDs are bright white and put out quite an annoying amount of light in a dark room.
And like I said, so far it seems to have solved my signal quality issues with live streaming apps.