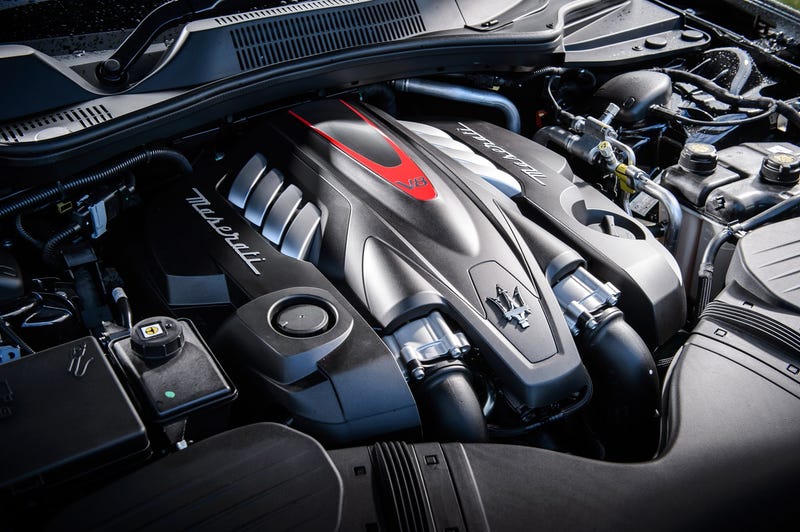 As a Maserati lover, the Ferrari F154 Engine is the most exciting thing in this world. The moment the Levante gets this engine, I'm going to have my dream SUV. I also can't wait to see this thing in the next Granturismo as well. Hell, anything with this engine is automatic dream car despite any other shortcomings, aka "Italian Character." Right now you can find the F154 in the following cars:
Quattroporte GTS (523hp, 479/524lb-ft, 12/22 mpg) since 2013

California T (552hp, 557lb-ft, 16/23 mpg) since 2014

488 GTB (661hp, 561lb-ft, 16/22 mpg) since 2015

I'll be honest though, I'm waiting for this thing to fall into the Levante SUV and the next Granturismo (which thankfully they moved up because they were going to do the Alfieri before it). I have a bad feeling Maserati is going to split the difference between the Alfieri Sportscar and the Granturismo and make a smaller 2+2 coupe/convertible. Whatever, I just want it with that engine.

By the way, the Giulia QV uses this engine but with two cylinders missing. Makes 503hp and 440lb-ft near its peak boost pressure of 2.4 bar (35lbs per square inch). There is a rumor that an AWD Giulia with 520hp is already on the books. There is also a rumor the Ghibli is supposed to receive the V8, however, in my mind, the QV's F154 V6 would make a lot more sense, especially since it has cylinder deactivation. I think the QV is supposed to get a rating of 28 mpg highway because of this!