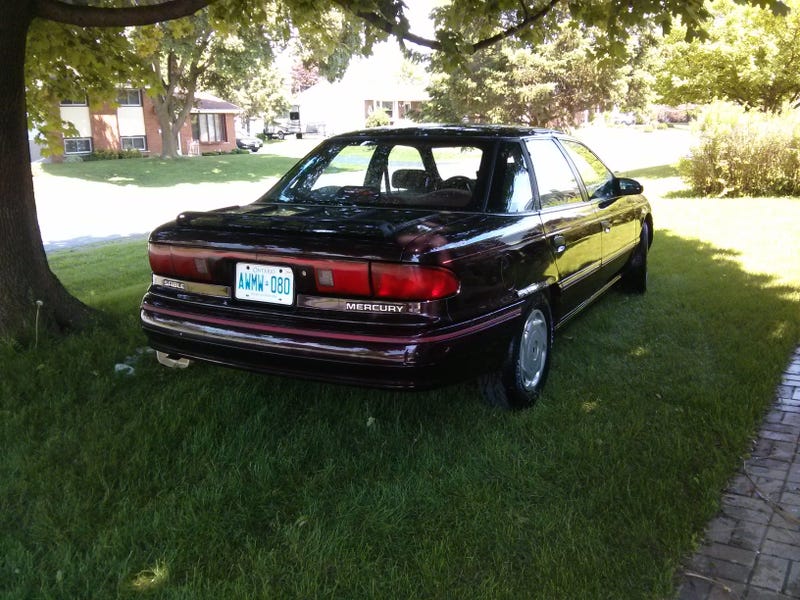 It's odd how quickly you become attached to vehicle and start to call it your own, even though it is actually your fathers vehicle. I have been driving his '92 Mercury Sable for a couple of weeks now, and I love that car. Great ride, good gas mileage, and very comfortable seats, I mean, its like sitting on a sofa.
However, that car is 22 years old and is starting to rust. I'd love to keep but since its not my car, its not really my place to say one way or another. I like the fact that its different, it doesn't really have all that much mileage on it, only about 164 thousand kilometers, I am from the Land of Maple Syrup after all, and it has never failed an emissions test.
All that being said, a rather bitchin' deal just fell into my lap. A 2000 Honda Accord with 216 thousand kilometers on the clock, a 'bigger' engine according to the 85 year old senior who dropped it off at the wrecking yard. What engine would that be? He said it was a V-tec, so a 2.3L perhaps? Any ways, he is the original owner, it just passed an E-test this year and the only thing it needs is a flat tire repair and a left side head light. After picking on the Honda guys at university for so long, its kind of funny that Im about to become one of them. Ill get some pics of the car tomorrow when I go to look at it.
All for the low low price of $450. And that's Canadian monopoly dollars.
Obviously its a crazy deal on the Honda, but I still think I'm going to miss the Mercury.
Side note, I was called to go in for an interview on Friday today, AND I have found an engine for my rusty Capri. $600 for an entire SHO 1991 Taurus that runs and drives isn't a bad deal I think. And its rusty enough coming from up state New York that I won't feel guilty for cutting it up.
I'm getting stoked for the Oppo LeMans race on Thursday, and the Opponauts Fourza car club is filling up too. If you want to join, just look for OPPONAUTS. The tag is 0PoS. (Those are zeros.)
Oh, and this is my first Oppo post since I just got authorship today.
I'll call today a win.