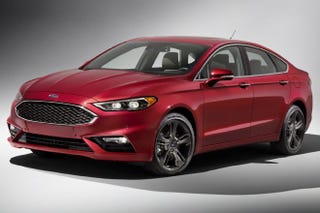 We are about to get a $34k, AWD, turbocharged V6 midsized sedan that makes more power than the Boostang, and it's "only" the Sport trim. Not even the top Fusion in the range!
Now considering we all said that V6s would be dead in midsized sedans just a year ago, here comes a car named after a razor that breaks the 300hp barrier that midsized sedans have had for years now! The only other AWD sedan with over 300hp for under 35k is...wait for it...did you think of it? I know you did! Yep, the WRX STI. Can you believe the Fusion and the STI came up in the same sentence?
Game changer, people! GAME. CHANGE. ERRRRR!!
Just think about all the sedans (midsize and large) that now need to either go AWD and, AND push past 300hp at $35k. I'm talking midtrim Taurus, Maxima, Charger, and Regal. Top trim 200C, Accord, Altima, Malibu, Camry, Sonata, Optima, Legacy (!), Passat...everyone!!* I can't wait to see how everyone steps up the game and for Ford to drop a Fusion ST if this thing is successful. Tell your friends to buy the Fusion Sport so that we can get a Fusion ST! Wait...no...Fusion SHO, woof!
*except Mazda6, because Zoom-Zoomland doesnt do power.