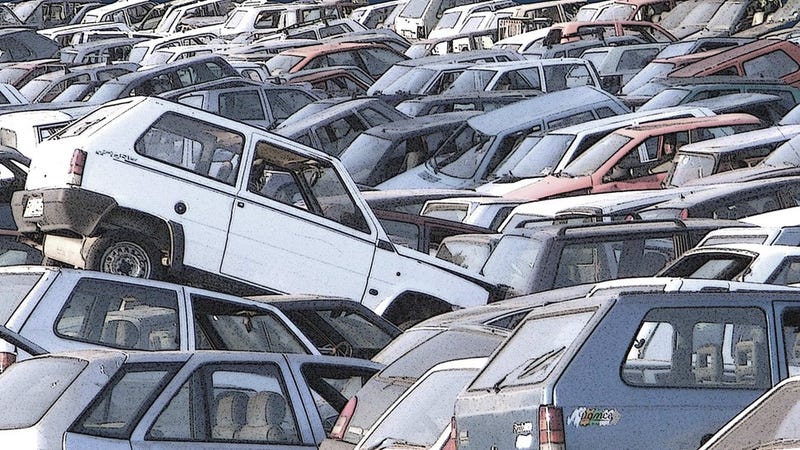 I lease a 2013 BMW 135is and own a 2005 Jeep Grand Cherokee Limited Hemi. These vehicles are stupid. My BMW lease ends in June, and I'm starting a new job in a couple weeks where my commute is a grand total of 4 miles each way. I don't think 2 cars will remain in my future.
My gf and I live in a cheap 'n cheerful rented townhouse in Madison, WI. It has a large 1-car garage, in that there's a good amount of storage space in addition to room for 1 car. She has a leased 2013 Honda Civic thru this July, and her commute is only 1.3 miles each way. You read that right.
Before we moved in, I lived in an apartment with a garage and plentiful outdoor parking, so I kept the BMW in the garage and my old '99 Grand Cherokee beater I had at the time outside. But when we moved in, I didn't want to monopolize the garage all winter with a car that wasn't being driven, so last winter I rented a storage unit. This winter I stored the BMW at her mom's house because her mom doesn't drive anymore and graciously offered to let me use her now-empty garage. Thanks, not-quite-mother-in-law!
Anyway, with both of us having such short commutes, she's thinking of either doing another cheap lease (her Civic is only $160/mo) or buying some cheap/decent used car. I'm going to turn in the BMW at the end of its lease and drive only my Jeep for a while.
Now, part of me wants to buy some kind of fun convertible or something to have as a second car, but with our parking situation, and how little driving I do, I just can't bring myself to spend actual money on a second car. Because that would be pretty stupid. What's a gearhead to do?
I bet I could fit a motorcycle in the garage!
Nah, I'll get in too much trouble trying to stash it in the "storage" part of the garage where my gf keeps her 7 gigantic cardboard boxes of Christmas decorations.