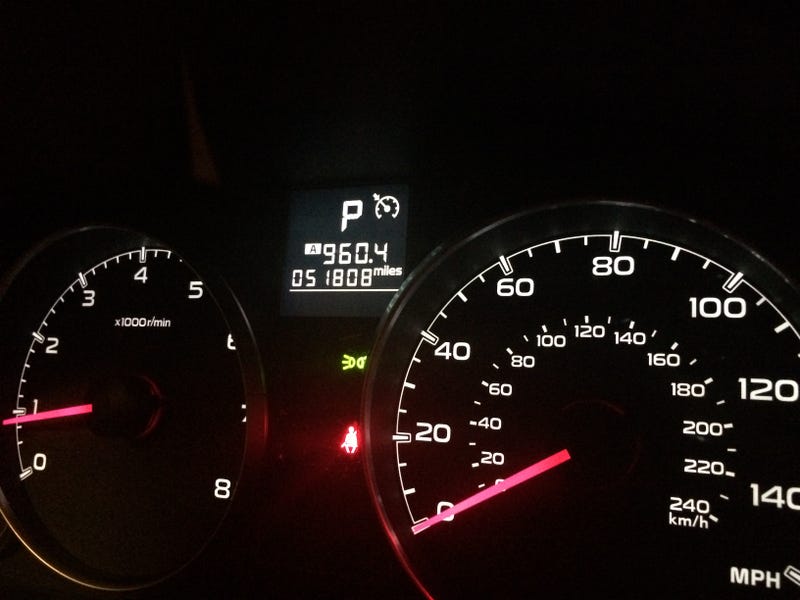 Original estimate of 1,000 was a little high. Final reading of 24.6 MPG isn't bad considering most of this was done at over 80 MPH. Thanks for helping break up theboredom Oppo Original stuff below.
Phoenix to SA in our 2013 Outback with my wife, two kids, and one of the dogs. I10 most of the way. Should be 995 miles door to door. I will try to answer during the periods that I am not driving and have cell phone coverage, which may be spotty. Plan is to leave here at 4 AM and be home sometime around 9 PM after the 2 hour time zone shift (Arizona is Mountain time zone, but doesn't observe DST).

Update 0: Here we go...
Clock still on central time. Yep, it is still 83F at 4 AM here in try desert.
Update 1: Wilcox, AZ. Been raining a lot so far. Mostly uphill out of PHX. Getting around 24 MPG.
Update 2: Only made it 50 mileS to San Simon before the kids had to pee again.
Update 3: Passed the keys off to my wife in Deming, NM. 314 miles in now. MPGs have climbed to 25.8 as we've been going downhill. That will drop when we climb east of El Paso. Saw a Mustang with many vents, scoops, and spoilers. None were functional.
Update 4: Just ate lunch in Socorro, just east of El Paso. 430 miles in. Kids and dog ran around. The next 50 miles or through the mountains are nice, but things get super boring after that.
Update 5: Kids and dog require lots of breaks. Going well but still have 300+ miles to go at 5 PM.
Update 6: Over 12 hours now. 760 miles in. About ready for this to be done with. Everyone has done really well. Getting 25.2 MPG. Saw an average as high as 26.4, but once the speed limit hit 80 I've been taking full advantage and the mileage has dropped. In for what should be the final fuel stop now.