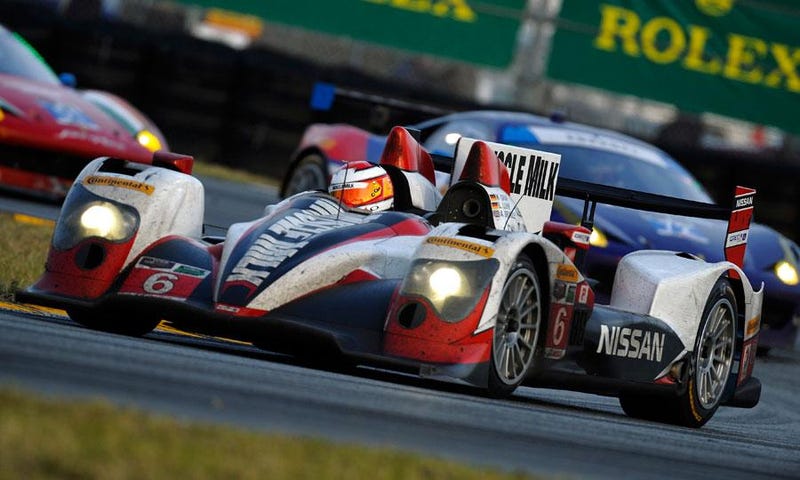 Stop it. Stop it right now. I mean it. I know you're upset that you don't get to see LMP1s racing in the regional racing series since the merger. I know that the first two races of the inaugural season of TUSCC had issues. I know that P2s haven't had much success against DPs. You've said it. You've said it a thousand times. But you know what? It's time to put your big boy pants on and accept reality.
First off, LMP1 is not just dead at a regional level in the US; it's dead at a regional level around the world. In fact, it was on life support for the past several years in ALMS. Why? It's prohibitively expensive to run which tends to limit the field to manufacturer backed teams, and the exposure at a regional level isn't that great when you're trying to show the world the technology you've come up with (which is why OEMs go sports car racing in the first place). This is why Audi and Toyota bailed for the WEC, and why only 2 privateer teams were in ALMS last year. Do you know what a two car race is? Incredibly boring, that's what. It makes all of the sense in the world to cut LMP1 from the new series. This whole protest just reeks of American exceptionalism. Let LMP1 flourish in WEC where it truly belongs and enjoy regional racing for what it is.
And yeah, Daytona and Sebring both had issues with race management. But you know what? IMSA is actively listening to feedback, and is genuinely concerned about correcting issues. This series is in its infancy, there are bugs and quirks to work out, but the important thing is IMSA admitting that there are issues, and they are working hard to resolve them in a timely and effective way. They've updated their full course yellow procedures to reduce time spend under yellow, they've issued penalties for unsafe and bush-league driving, and they have implemented regulations that will help prevent people from making more terrible calls. Long Beach showed huge improvement, and if I recall correctly, I didn't see a single one of these issues rear its ugly head.
Speaking of Long Beach, you people who are complaining that BOP favors the DPs too much have are only paying attention to one statistic: who's won. Yeah, the DPs walked away at Daytona, but that was to be expected. I mean, Daytona is right there in the name; they were designed for that track. But at Sebring, P2s made up 3 out of the top 5 Finishers, and their fastest laps were on par with the DPs. Long Beach was won by the Ganassi DP because Scott Pruett was putting in amazingly consistent laps (1:16.5-1:17.9). Oak didn't get better than 3rd, because Pla was just not consistent (1:16.3-1:20.0). It's not just BOP that determines a race; it's the experience and skill of the drivers and efficiency of the pit crews. Sure, I think DPs could use a bit less power (and that tweak is probably inevitable), but to say that the idea of a fair BOP is hopeless is to be ignorant of what's actually happening beyond who's in first at the checkered flag.
And for you people rejoicing about Muscle Milk Pickett Racing Leaving TUSCC, you can very politely shove it. Do you realize people have lost jobs for that? How can you possibly call yourself a fan if you are rejoicing on that? You clearly don't have the sport's best interest in mind and going back to Grand Am/ALMS is a definite step backwards. Remember, "A house divided against itself cannot stand." This is true in sports car racing too, and having two separated fan bases doesn't encourage consistent coverage on TV. If IMSA can iron their kinks out (which they will), the Tudor championship will be the best regional sports car series in the world, and you'll continue to be able to watch sports car racing on TV.
Which speaking of, increased TV coverage really the only noticeable aspect of the "NASCARization" of the series. I don't know about you, but I've watched NASCAR races, and I've watched the races of Tudor, and I can't really see that.
And finally, when the racing is going well, it's going REALLY well. There have been some really fantastic battles at all levels, from the Prototypes down to GTD. The variety in the fields has been phenomenal, and it's great to watch. Have you seen GTLM or GTD races yet? I'm on the edge of my seat every race so far, because every car has a completely different set of strengths and weaknesses. Even the DP vs. P2 battles have been fun, because it's two completely different solutions to the same problem racing against each other. When the BOP is finally nailed down, it'll be some really great racing.
As the great philosopher Jagger once said, "You can't always get what you want, but sometimes you get what you need." And you know what? The American sports car scene needed a unified series. Sure, it's got issues and we can all pour out a forty of racing gas out for P1s, but we are on the right track. Tudor has potential, and people need to recognize that. Stop complaining, and help IMSA learn and grow, because if Tudor falters, we may lose sports car racing in the states completely.
I love racing and I love cars. I talk about that a lot on Twitter. Feel free to follow me at @willkinton247. If you want me to look into a particular series or topic, or have any feedback, let me know. #shamelessselfpromotion
Photo credit: LAT PHOTOGRAPHIC via Autoweek