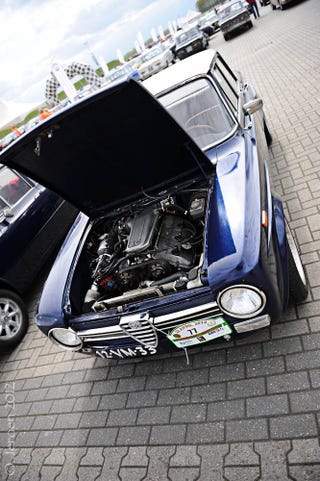 ...but Motorswap Monday is a great idea, and one that's very relevant to my interests. Lots in the thread, but first off, an Alfa Giulia with an Arese V6. It just looks right, and has inspired many a thought of putting one in a Giulia GTV.
RB1971's S54 3.0CS, again a big source of inspiration for my own project.
Good old Caswell's S14 E30.
Do factory prototypes count? This is an Alfetta GTV8 with the V8 from a Montreal.
This Datsun 510 is owned by the chap who does Build Threads, a blog dedicated to fantastic builds. The car itself has a turbocharged FJ20 kicking out around 210bhp to the rear wheels.
Another factory effort. The Ford Capri Perana was cooked up by South African mentalists by sticking a breathed-on Ford 302 in a Capri chassis, with the intent of going motor racing. Seriously cool car.
Turbine-powered Spitfire. TURBINE-POWERED SPITFIRE!
Rotory MGB GT rallycross project that was for sale a while back. makes me want a Baja MGB GT V8.
It's not just the engine swap for this one, but the entire build. Tube-framed, WRX-engined Porsche 914. Utterly insane.
Toyota Corolla with a supercharged Lexus V8. Big fan of keeping it in the family.
Also a big fan of the Flyin' Miata V8s.
A stunning Alfa GTV6 with a 3.0l 24v engine fitted. Video has a constant stream of excuses by the owner, but it looks and sounds amazing.
Short clip, but it's a bonkers widebody rotary MX-5. Sounds like nothing else on earth.
Last, but by no means least, this unassuming little thing. I stumbled upon this little picture while I was doing a research job just after finishing uni and it sang to me. Hiding under the bonnet bulge of this Spit is a Triumph I6. The moment I saw it I thought 'this is something I want'.
And so came about my own little engine swap. So far, I've got my ratty Spitfire and a ratty 2.5l PI Triumph 6. Alas, I haven't done anything on it in a while, but that's because we've moved somewhere without a proper garage. I've been busy walling up the open face of the car-port we have, putting doors in the other end, painting floors, building cupboards and workbenches and storage areas, all so I can finally start work again.
I can't wait. Soon, I will have ~170bhp in ~750kg and THIS NOISE!