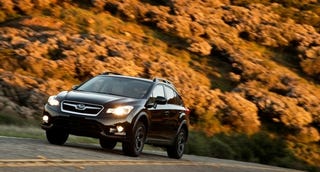 I don't know about you, but when Subaru started teasing the XV Crosstrek back in 2011, I was giddy with excitement. Nobody knew much about it, but all the signs were pointing in the right direction. A small Subaru wagon, tall ride height, AWD, all the good stuff. Plus it looked good, all shapely and funky and aggressive. It was nice to see Subaru staying true to its rallying roots while doing something a little out of the ordinary. Things were good.
But then the specs came out and it all went downhill. I was expecting somewhere between 200-300hp (I know that's optimistic but it's not a small car, a little grunt would be nice). But nope, the lovely Japanese fellas down at Subaru decided that what we need is a 2.0 4cyl boxer with 148hp. One-Fourty-Eight. Yes, I suppose that's enough to quietly lug your outdoors-oriented children from hiking trail to bike path at a polar bear-friendly 33MPG. Still, from a company that makes a 305hp road-going rally monster, I was expecting a bit more umph. That means it cant be the STI's huskier brother, but since it's still a high-riding, chunky-tired big old brute, it can't be a companion to the BRZ either….so what is it?
With no power, cushy springs, and a big rugged look, its clearly not a track or road racing machine. Which means it must be leaning towards that other side of Subaru - the raunchy, bare-knuckles off-roading side. "Yeah, thats it, there's probably a heap of torque and clever low-range and diff settings and it's probably crazy good off-road, " I thought. But nope, yet again, Subaru cheated us out of something amazing. Theres no ride height adjustment, no adaptive road surface settings, no low range, zip, zilch, nada. The AWD is enough to get you up a snowy knoll in the winter but a CR-V will do that too; it's nothing special.
I guess what I'm saying is that I understand the market demand for the XV Crosstrek. It's small, good looking, economical, and for the average citizen, an excellent daily driver. That's why they're selling like the last batch of Twinkies circa 2012. I just wish some car companies took the enthusiasts into account on occasion, and gave us a little something to play with. Subaru could have had a runaway hit with the Crosstrek like they did with the STI or the BRZ but they walked away from that opportunity and just made another ordinary car. And that, my friends, is a damn shame.