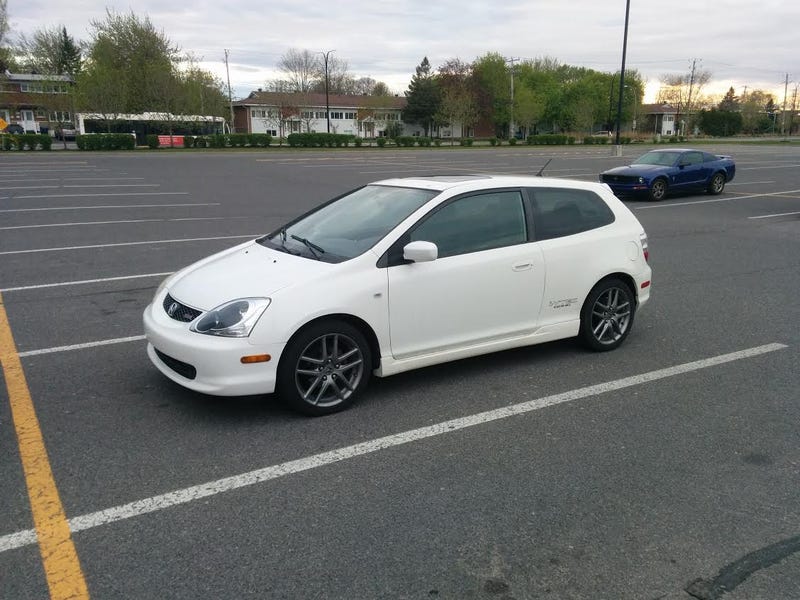 Everyone, I'm selling my personal car: a 2004 Honda Civic SiR (EP3).

In Canada we had the SiR, but it's essentially an Si. Which means it has the "weaker" , yet bulletproof 160-hp K20 engine and a good old, dashboard mounted 5-speed manual with three pedals. It also has VTEC.

It's not perfect, I mean being a car that grew up in Quebec, it has a few minor rust spots here and there, but nothing that can't be sanded down and repainted over a weekend. Overall, it drives great, but then, of course it will, because it's a Honda.

Engine runs and starts great. Doesn't consume oil, which is rare. The only mechanical thing I would have checked is a pulley that acts up on cold starts. Nothing major. Changed all 4 wheel bearings, two tire rods and redid the front brakes (disks and calipers). Rear brakes will be due soon.

These cars are getting rarer and rarer every day. I'd love to keep it, but since I'm always driving around in press cars, it just always sits in my driveway. I'd like a good owner to take good care of it.

Asking $4 500 CAN. Here's the complete add.

Hit me up in the comments if you have questions.