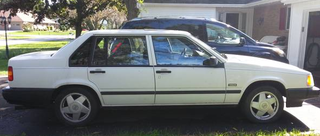 Here's what I wrote in the CL ad. I thought you all might enjoy it.

940 Turbo with a STICK! That's what sold me last year when I bought this car. Don't get me wrong, it's a pretty cool car, and you won't find any other 940 out there with a manual transmission, but I'm ready to move on. If you've got a welder, or know a guy, it has one thing left to do to get it inspected and legal in PA. The left frame rail under the driver's seat rusted out and needs to be reinforced. I don't want to deal with that.

I didn't check it out enough before I bought it from a guy in NY state last October. He had swapped the slushbox for a 4 speed manual with pushbutton overdrive. Nice! It was burning some oil, so I rebuilt the turbo and that cleared that right up. While working on that I realized the cat had been removed, so I bought a new one of those and installed it. The good news is that it's got a good emissions sticker on it now. The parking brakes were rusted to oblivion. On these cars the parking brake is a small drum brake inside the rear disk brake rotor. I rebuilt those and put a new parking brake cable and rotors in. Oh, then when I pulled it out of the garage after doing the turbo, cat, and brakes, the center drive shaft bearing seized up! So, now it's got a new one of those.

Some other items of concern. The speedometer doesn't work and it's probably the gauge cluster that is to blame. Something about bad capacitors. Look it up. You'll see it's a common problem, and the one you find in the junkyard probably has the same issue. The heated seats don't work, but the heater rocks. And, speaking of climate control, the AC is not working, although all the parts are there. I just didn't try to fix that. The leather seats have some stitching that has come undone. And, the glove box latch broke. You'll see from the pics that I pulled that out and it needs to be put back in.

Now the GOOD! Except for those heated seats, every single electrical item works great! Power sunroof -works! All four power windows -work! Power locks -work! Power mirror adjust, left and right -work!. Six way power driver's seat -works!

Other good stuff: The headlights look fantastic. Real glass lenses! Leather! Well, that's kind of beat up and gnarly. Mostly, it's fun to drive. And it's a whole lot cooler looking that that rusted out econobox you're considering.