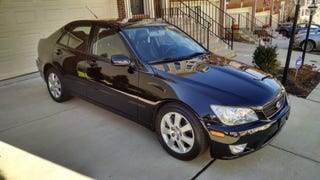 BaT has listed this 1-owner IS sedan... But why?
It's got 82k miles, which is low, but not WOW-low. It's got the mid-level interior. It's automatic, and therefore the most common variety of IS: auto, sedan, suede interior. There's almost a dozen on my local CL. It's not exactly immaculate... little scratches and the interior is fairly dirty (those door cards...). The model itself is still far from being rare. It's better than most you'll find on CL for sure, but there's still an abundance of good examples out there.

And those wheels are inferior to the factory 5-spokes in every way. The seller says he bought the car and those were on there... How? Why? That would seem to imply this seller is not the original owner... he probably got it from the original owner himself and is flipping it.

It also was booped at some point (it happens!), but there's a 2 year gap with no registration...?
Admittedly, the black paint is not common and looks excellent.

Is the only other appeal the paper trail that it's been maintained? Since it's under 90k miles, the only thing it would have really needed at this point is oil and brakes.
The comments section is surprisingly positive. I don't understand. Am I crazy here, folks?