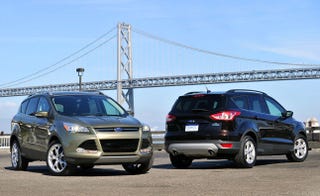 Or at least my thoughts on the 2013 Escape. Last summer we got an Escape for the wife and I gave some initial thoughts on it. As of then we very much liked it. Well, last week we put on 1200 miles and 20+ hours driving, so I think I can add to the initial impressions.
First off, the ride is great. It handled long distance driving quite nicely and didn't beat us up at all. It also handled crappy Midwest roads with ease. You feel the potholes, but the suspension definitely does a good job of soaking them up without any harshness or crashiness to speak of. The initial impression of excellent body control still stands too. The ride is firm enough that there isn't too much body roll when driving spiritedly but somehow there is no harshness when hitting rough patches.
Moving on to the creature comforts, there are plenty. We have the SEL version which comes with leather seats, and got the tech package so there are goodies like satellite radio, keyless starting and a power tailgate. Satellite radio is a must have when you're on a 500+ mile trip through the rural Midwest. The seats were very comfortable, even after a 9+ hour day of driving. I was feeling a little stiff by the end of the day, but no worse than I feel when doing the same drive in a full size truck. They keyless entry & starting are very nice features when you've got your hands full of snacks and other junk. And the power liftgate is a nice feature when you're coming out of Costco with a cart full of stuff.
And Costco gets us to storage space. For a small(ish) vehicle there is plenty of cargo space. Even after stocking up at Costco we were still able to fit everything in for the drive home. We didn't even have to strap the Finnlet to the roof. And there was even enough room to get an adult into the back seat to feed him when he got cranky too. To give you some idea of how much stuff we fit, it took me about a half hour to unload the vehicle once we got home. The split folding rear seat is a real asset when it comes to fitting a lot of stuff.
On the power front there is plenty of it available for passing. We got the 2.0L EB with AWD, so there is ~250hp on tap. And the AWD combined with Blizzak WS70's made for a nearly unstoppable winter vehicle even with the snowiest winter in many years for us. Think in the neighborhood of 300 inches of snowfall this past winter.
The downside of great power is that it generally comes with poor fuel mileage. I wouldn't go so far as to say it was poor, but it wasn't good either. The best we saw over the weekend was 29+ driving at 65mph with an occasional pass. Once we hit the freeway and speeds got up to 75, mileage took a big hit. Overall for the 1200 miles we averaged about 25.5mpg. That included a lot of suburban driving while at our destination.
In conclusion the Escape makes for an excellent DD. It is fun to drive for a CUV, has plenty of creature comforts and can fit a lot of stuff when you need to. The mileage isn't great, but then again you do get a lot of power to make up for it. In the end it is a great vehicle for us. And as always, YMMV.