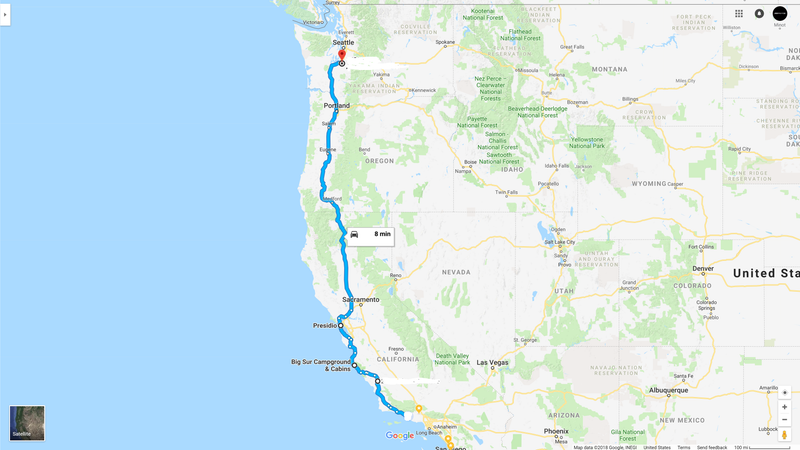 I figured since I have three other cars at my disposal, and considering my Mercedes has never been north of Santa Barbara, or south of Orange County, or that I haven't been farther north than Paso Robles, that maybe I should see the rest of the state which I sort of like.
I would be going up to Washington to stay with a fellow Oppo member who I've never met in person. But while I'm up in the Seattle area I'd like to meet as many of you guys up there: Fintail, Zoidberg, RPM, and AestheticsInMotion. Hopefully, I'm not missing anyone.
My plan for the trip north is to take the 154 since I love that in my Golf. Stop at my Grandma's in an undisclosed location (SLO), and probably stop and meet a fellow Oppo member. Then I'll work my way around the PCH closure at Mud Creek and get to Big Sur. After that, I'll go through "The Valley" *shudders* and stop at The Presidio to visit my Granddads grave.
After that, I'll leave the coast and stop in Oregon. Or maybe I'll go around. I don't want someone else putting gas in my car. But I want to try and meet AMGtech and have him laugh at my car.
After that, I'll power through to the Seattle area, where I will deliver authentic salsa and chips to a deprived member of Oppo, and then he'll put me to work on his M3, and I'll probably listen to the noises his other car makes and cry myself to sleep.
On the way home I will just take the 5, but stop and see ImmoralMinority and meet his overlord Pumpkin, and also the good boy Toby.
Any suggestions for stops along the way, let me know. And I will consider staying with other strangers on this forum.
*Maybe I'll take the Golf. At an estimated 16 miles per gallon with my Mercedes at $3.87, a random number pulled out of air, that's around $600. I'd probably get 40mpg in the Golf, so it would only cost around $230, and I wouldn't have to be scared of Oregon.