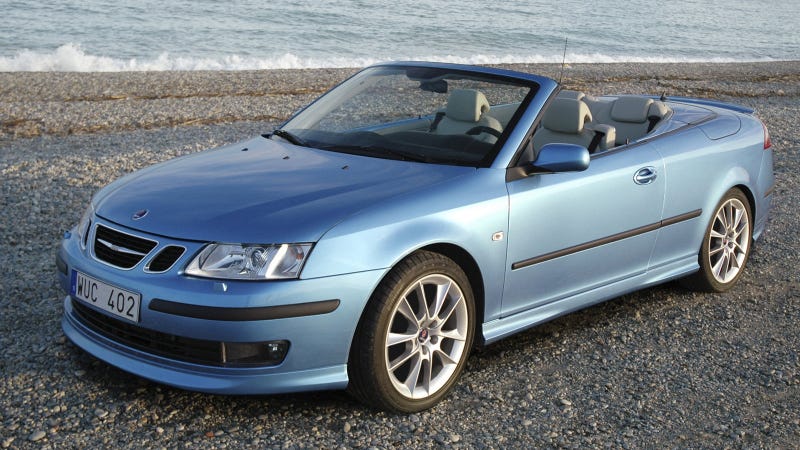 When I visited my parents this weekend, my dad mentioned his 2007 Saab 9-3 Aero convertible had developed some kind of clanking noise, and if it turned out to be a major repair he'd probably buy a new car. I did a bunch of research, then he told me his mechanic is replacing a sway bar endlink for $72.

My dad bought this car brand new, and it now has 130-something thousand miles on it. He's spent a not-insignificant amount of money on repairs over the years. Oh, and it's survived all this time, with the notoriously unreliable 2.8T V6.
My dad claims that he no longer cares about having a convertible, or anything sporty, and instead wants a 2-box body that gets good mpg on regular gas, has halfway decent handling, can tow a dinky 14-foot sailboat, is reliable, and is small enough to parallel park in downtown DC on a regular basis. He said his first choice is a Mazda CX-5, which is a fine enough option, I guess.
He also mentioned he was thinking about a VW Golf Alltrack, or some other wagon, but the Subaru Outback is too big, and he doesn't want an Audi, BMW, Volvo, or anything else that runs on premium fuel, because even though he's rich, he's sick of paying extra for premium. He wants that sweet, sweet regular unleaded. I suggested the new Buick Regal in either hatchback or wagon form, then discovered both are bigger than the Outback, and I have no idea how much they might tow. Oh well.
While I generally am not a fan of the idea of replacing a lovely Swedish convertible with a boring crossover, I nonetheless directed my OCD toward finding some options for him. I pored over fuel economy ratings, towing capacities, exterior dimensions, Android Auto availability, you name it. I had a whole big email typed up to him, then he texted me about the problem with the 9-3 just being the sway bar link.

You'd think that would be the end of it but noooo, I kept refining that damn email and trying to pare it down to something more brief like, "since the Saab lives to fight another day, here's some stuff to think about down the road."
I can't bring myself to send it, for two reasons: 1) I don't want to encourage him to replace the Saab with a crossover and 2) My dad will react with some kind of snarky remark about how I shouldn't have gone all OCD when he's keeping the Saab.
But my OCD keeps poking me: "SHARE ALL OF THIS DATA WHICH I MADE YOU COLLECT. IT MUST BE SHARED WITH ITS INTENDED RECIPIENT."
This post is nothing but a vain attempt at forcing myself to Not. Send. That. Damn. Email. But I'm still thinking about it. I must be stopped.