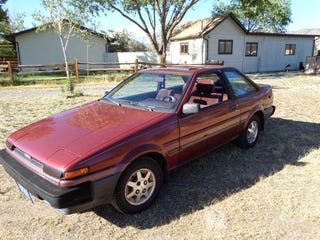 So I just impulse bought a 1987 Toyota Corrola SR5 (AE86). Yes, the carbureted motor is weak, and it will need a little bit of work, but 118k original miles! And I picked it up for what getting the injectors on my 996 cleaned would cost me!
The paint and rims are nowhere near as nice as the pictures make it look, but the interior is immaculate. The dash is even crack free, which is fairly rare. And it runs, passes emissions, and doesn't seem to have any leaks. So... yay.
The previous owner has owned it since the late 90's. But she's old and got put in a home. So her daughter and son-in-law were gifted it. The guy had no idea of the drift culture, so I was able to use the fact it's a stick (SO HARD TO DRIVE!) and rear-wheel drive (SO UNSAFE IN WINTER) to help get a lower price. The irony of that! :D
And OMFG parts are so cheap on this car! While I would never trust my life to a $6 brake pad, it is still possible for me to buy $6 brake pads. Compare that to my last Porsche part purchase - one of the four headlight cleaner fluid nozzles - $40. Not the assembly - just the nozzle. And let's face it -this is a 28 year old car - things will break.
So, yeah... Must resist the urge to spend more than I paid for the car in suspension and brake upgrades. Well, at least until I get the known issues fixed. Mainly the coolant temperature sensor appears to be broken - that one really concerns me. But the coolant temperature didn't go from ambient to 250+ degrees in 5 seconds, the fan is mechanically driven - not electric, coolant was flowing through the motor, and there didn't appear to be any leaks, so I'll gamble on that. I mean, honestly, I have never come across an unmolested AE86 locally on craigslist.
So for now, I celebrate. I have 2 more hours before my girl comes home from work and I have to explain why I bought a car that she can't even drive due to it having a manual transmission - not that she would be seen driving a 28 year old Toyota Corolla. :D